Audi Quattro - world's coolest cars
The Quattro made 4x4 cool and Audi never looked back - a rally legend for the road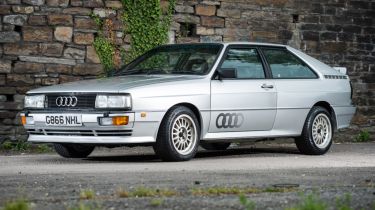 Years: 1980-1991Number built: 11,500
The Audi Quattro is the second dedicated rally car in our list, so it's clear that there's extra cool points to be earned from competing on these tough events. Where the Ur-Quattro (the name means original Quattro, and is designed to differentiate the coupe from Audi's quattro-equipped cars) differs from the Lancia Stratos is that it employed new technology to take advantage of new motorsport rules that allowed the use of four-wheel-drive cars.
The initial idea for the Quattro came from an Audi engineer who saw that a slow and lumbering VW Iltis jeep with four-wheel drive was far better at driving in the snow than any other car, no matter how much power the other car had. So engineers joined forces and developed a 4WD mule based on the Audi 80 saloon to see exactly what would happen in a car equipped with the Iltis' running gear. Soon, the Quattro was born, with a 197bhp five-cylinder turbocharged engine and flared wheelarches designed to mark it out from the standard Audi Coupe on which it was based.
It only seemed natural to take the Quattro racing, and it soon came to dominate rallies across the globe against its two-wheel-drive opponents. The Quattro won the World Rally Championship in 1982 with Michele Mouton, and again in 1984 with Stig Blomqvist. It took 23 rally victories between 1981-1985, but by the time of the last of these, the Quattro was getting outgunned by faster cars like the Lancia Delta S4 and Peugeot 205 T16.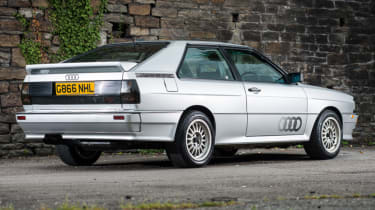 As a result, Audi attempted to reinvent the Quattro for the Group B era. First was the short wheelbase Sport Quattro that chopped a foot out of the car's wheelbase to give it sharper handling. Then came the Quattro S1 E2 with wider arches, huge wings and up to 500bhp, but it was too late to give the Quattro the winning advantage against its rivals. And with the banning of Group B machines in 1986, Audi's participation in front-line WRC events came to an end.
Still, the Quattro's reputation had been established, and while road car production only amounted to just over 11,000 cars, it's now a bona-fide classic with auction values reflecting its cult status. The Quattro also went on to establish Audi's performance car division, while the quattro tag is used on any four-wheel-drive Audi on sale.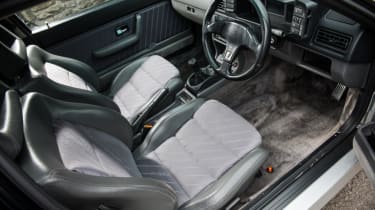 Successors to the Quattro initially copied its 4WD, five-cylinder turbo layout, with models like the Coupe S2 and RS2 Avant also gaining cult status. In later years, five-cylinder power made way for V6, V8 and even V10 power for Audi's S and RS models, but the launch of the most recent Audi TT RS and RS3 Sportback saw the revival of the five-cylinder turbo and its classic warbling soundtrack. The spirit of the Quattro lives on.
Top 10 coolest cars in the world