Audi's greatest Quattros
Audi's new RS5 has been launched on the 30th anniversary of Audi's quattro system. Here we hit the race track in 11 of the best four-wheel-drive cars has ever made...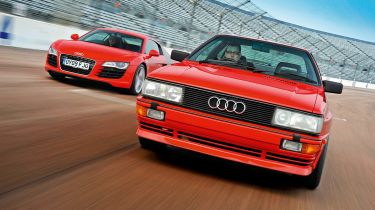 Quattro has turned 30! And to celebrate the firm's groundbreaking four-wheel-drive system Audi will unveil the new RS5 at the Geneva Motor Show. Read about the new RS5 here.
Auto Express has joined the party too. We've gathered 11 of the greatest quattro models ever produced for this exclusive feature.
Despite the brand's complex history. the German firm has emerged as one of the world's leading prestige car makers. And its recent success has been largely thanks to its famed quattro four-wheel-drive models. Audi's 4WD technology has it all, giving superb traction, accomplished handling ability and improved safety, plus it has a motorsport pedigree. In this special feature, we look at some of the most exciting 4WD cars to wear the four-ringed badge – and, we rank them.
From the original Quattro to the stunning R8, this line-up is our salute to 30 years of all-wheel-drive Audis.
Verdict