Alfa Romeo Tonale vs Volvo XC40: 2023 twin test review
The new Alfa Romeo Tonale is seen as yet another relaunch for the Italian firm - does it have the measure of the Volvo XC40?
Since the Giulietta hatchback went off sale a couple of years ago, Alfa Romeo has had only two models to offer buyers. But good though the Giulia and Stelvio both are, it has been a tough fight for the Italian brand against the premium car establishment, many of which offer so many models they've created new niches within other niches. 
So Alfa Romeo's latest release, a third model for its line-up, can't come soon enough. This is the Tonale, a car which, sitting in the compact premium SUV sector, wades into one of the most competitive segments around. Fortunately it also features another first for Alfa: a plug-in hybrid powertrain. It's a set-up that's vital if the Tonale is to do well in this category.
Among the many challengers the Tonale has to face is one of our favourites. The Volvo XC40 T5 Recharge is the most potent PHEV that the Swedish brand offers in this class, and is a close match for the top-spec Tonale on price. So if the Alfa Romeo can give a good account of itself here, it's well within the mix for the class best.
Alfa Romeo Tonale
| | |
| --- | --- |
| Model: | Alfa Romeo Tonale PHEV AWD Veloce |
| Price: | £48,495 |
| Engine: | 1.3-litre 4cyl turbo PHEV, 272bhp |
| 0-62mph: | 6.2 seconds |
| Test economy: | 41.5mpg/9.1mpl |
| CO2: | 29g/km |
| Annual road tax: | £510 |
Although we're testing a left-hand-drive Tonale here, its Veloce spec is a close match to what we'll get in the UK. Before options, it comes to £48,495, but add the Winter Pack (£450), 20-inch alloy wheels (£750) and lustrous Montreal Green paint (£1,500), and this car comes to £51,245.  
Design & engineering
The Tonale adds a third model to Alfa Romeo's current line-up and its second SUV. But when Alfa has its excellent Giorgio platform to build on – the reason why both the Giulia and the Stelvio ride and handle as well as almost anything in their respective classes – it's less promising to learn that the Tonale goes without it.
Instead, it uses a platform shared with the five-year-old Jeep Compass, but can actually trace its roots back almost 20 years. However, Alfa's engineers have tried to put their own mark on it. There's a unique adaptive damping set-up (co-developed with suspension specialist Koni) plus Alfa's typically quick steering to give the Tonale a sportier feel.
The range comes with a choice of two powertrains. It kicks off with a mild-hybrid petrol – a model whose so-so performance and poorer calibration left us underwhelmed – plus the plug-in hybrid system we have here. 
This combines a 178bhp 1.3-litre turbocharged petrol engine – which has a mild hybrid-style integrated starter-generator of its own – with a rear-mounted motor that sends 121bhp and 250Nm to the back wheels. Energy is supplied by a 15.5kWh battery and the Tonale will drive in fully electric mode at speeds of up to 84mph.
Inside, the cabin is typically Alfa, in that there's a mix of the lovely and the disappointing. Fortunately, most aspects that fall into the former category tend to be the bits that you touch often, such as the steering wheel and the excellent aluminium shift paddles (available on the top-spec Veloce trim). The centre console and door trims feel wobbly and are made from scratchy plastic, though.
Partnership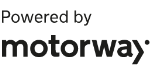 Need to sell your car?
Find your best offer from over 5,000+ dealers. It's that easy.
As with other Alfas, the Tonale gets a 'DNA' drive mode switch. In Dynamic, the throttle, gearbox, stability control and steering are tuned to provide a more direct feel, and there's more brake regeneration, too. Natural is the hybrid mode, which balances between performance and economy, while Advance Efficiency is the full-electric setting. In addition, there's a battery save mode that lets you maintain charge for later in your journey. 
Driving
Alfa Romeo drivers demand sharp handling almost as much as they want handsome looks, and the good news is that the Tonale delivers for the most part. Despite the weight of the plug-in hybrid tech, the Tonale feels keen to turn in, and body control is kept in check with just a gentle amount of roll.
The steering is direct, but we'd like a little more feedback; it doesn't give you much impression of how the tyres load up through a corner. In Dynamic mode, the adaptive dampers firm up and the drive gets sharper. The difference between the soft and hard modes isn't as pronounced as in the Stelvio, but at higher speeds it settles more quickly after hitting a large bump. On the other hand, it also introduces more fidget, which some drivers (and passengers) might find a little bit irritating. 
Still, it's not the worst-riding car in this segment, and things will improve if you stick with the standard, smaller 19-inch wheels. If it gets too much, the bumpy road mode lets you switch back to the softer setting, even when you're in Dynamic.
It's in Dynamic where the PHEV powertrain gives you everything it's got. Straight-line performance is strong, with 0-62mph covered in just 6.2 seconds. The torque from the electric motor helps to push the back axle gently when accelerating out of a turn, but the Tonale still feels more front-driven than rear.
In Natural mode, the system defaults to electric drive if there's enough charge. The 121bhp on offer is fine for everyday driving. Mash the throttle pedal to join a motorway or perform an overtake, and there's a small delay while the petrol engine wakes up, but you're not left completely floundering because the electric motor gives reasonable shove straight away. The transition between petrol and electric is a bit clunky, while the weakest part of the powertrain is the laggy six-speed automatic gearbox.
Practicality
Back-seat passengers won't feel hard done by in the Alfa Romeo, with decent head and kneeroom, but the XC40 is slightly better in both areas. The seats themselves feel quite flat and the backrests are upright, so the Volvo is the more comfortable car for rear passengers overall. 
The Alfa's lower floor and generous room for feet under the front seats, combined with the Volvo's high central hump, make the Tonale a more comfortable place to seat three occupants at once. 
Ownership
The Tonale was given a maximum five-star rating when it was tested by Euro NCAP in 2022. All models come with autonomous emergency braking, traffic-sign recognition, forward-collision warning and adaptive cruise control, while an optional level two system can accelerate and steer between lanes for limited periods. The XC40 also achieved a five-star NCAP rating when it was tested in 2018.
Running costs
One of the big benefits of a 40 mile-plus electric-only range is that it allows the Tonale to dip into the eight per cent Benefit in Kind company car tax band. Meanwhile, the Volvo sits in the 14 per cent category. As a result, a higher-rate income tax payer will face annual deductions of £2,887 in the Volvo – a hefty £1,272 more than a Tonale driver each year.
Tester's notes: "For a car that's meant to have a sporty edge, the stability control and emergency brake lights are too intrusive when driving with even a bit of enthusiasm."
Volvo XC40
| | |
| --- | --- |
| Model: | Volvo XC40 T5 Ultimate |
| Price: | £51,605 |
| Engine: | 1.5-litre 3cyl turbo PHEV, 258bhp |
| 0-62mph: | 7.2 seconds |
| Test economy: | 36.9mpg/8.1mpl |
| CO2: | 49g/km |
| Annual road tax: | £510 |
The XC40 we're testing against the Tonale here is in top-spec Ultimate trim. All paint options are no cost on this trim level, so the added extras are the wool-blend upholstery (£825) and a spare wheel (£150), bringing our test car to £52,580.
Design & engineering
Volvo's Compact Modular Architecture underpins the XC40, and here it holds an advantage over the Alfa Romeo; not only is it able to run mild and plug-in hybrid powertrains, but there's a fully electric option, too. So no matter what type of driving suits you best, Volvo has you covered. 
On paper though, the PHEV tech isn't quite as strong as the Tonale's, because its 1.5-litre, three-cylinder petrol engine is joined by a single electric motor. Unlike the Alfa, which sends almost all of its electric drive to the back, the Volvo's combined 258bhp – a modest 14bhp less than the Tonale – goes through the front wheels. At 81bhp, the e-motor makes 40bhp less than the Alfa's, and the car's 10.7kWh battery is 4.8kWh smaller, too. Both of these factors mean that you're less able to rely on EV mode in everyday driving.
What you can always rely on, however, is Volvo offering a minimalist interior. Four years on from its launch, and the XC40's cabin is still a smart-looking place to be; it's a very clean (if quite dark) place to sit. The use of carpet across the lower centre console and door panels is a neat way to avoid using too much hard plastic, and although the latter is used in some areas, it's less conspicuous here than in the Alfa.
The overall feel is sturdier, too. Both the Alfa and Volvo have narrow window lines towards the rear. Both look suitably funky on the outside, but the trade-off is that neither of these cars are that great for over-the-shoulder visibility.
Driving
For two similarly-sized SUVs, the XC40 and the Tonale feel very different to drive. Where the Alfa is firm, the Volvo is soft and relaxing. Conversely, where the Tonale feels neatly balanced and nimble for a car of this type, the Volvo is nose-heavy and lazy. The steering has a decent weight to it, but it doesn't offer much feedback, and while the Volvo transmits slightly less road noise into the cabin, there's a little more wind noise.
Even though the Alfa's PHEV powertrain has some flaws, overall it has the better of the Volvo's system. Weaknesses such as a laggy gearbox feature in both cars, but the XC40's engine is slower to wake up when you need its extra shove. Given that its e-motor is also less potent, this means the Volvo needs to lean on its combustion engine more heavily than its rival, so this disadvantage becomes even more profound.
With 258bhp to deploy through the front axle, the XC40's traction can be overwhelmed if you get a little too keen with the throttle. The Alfa's traction is great, which helps it to deliver a 0-62mph time that's 1.1 seconds faster. When you need to use the Volvo's performance, its petrol engine is noisier and coarser than its Italian rival's. The electric motor is louder, too.
Then there are the Volvo's brakes, which go from being very light in the first stage of travel to very firm later. This is combined with a clumsy transition between electrical and mechanical deceleration, which causes the car to stutter during harder stops. 
Practicality
Not only is the XC40 slightly more spacious for rear-seat passengers, it has a larger boot than the Tonale, too. At 452 litres, it's 67 litres bigger than the Alfa's  385-litre space (which incidentally is identical to the Mercedes GLA plug-in hybrid), and there's enough space under the Volvo's boot floor for an optional space-saver spare wheel. 
If you need more room, then the Volvo's seats fold almost completely flat, and a range of hooks and tethers allow you to secure smaller loads easily.
Interior storage is pretty impressive, too. The front door bins are huge, there's a deep bin under the front centre armrest, and a wide space up front to hold a smartphone or two. If we're being nit-picky, the back door bins are fairly small. The Tonale's door bins aren't as large up front, and its central arm rest bin isn't quite as roomy. The smartphone shelf, although neatly angled toward the driver, is a little awkward because the drive mode dial obstructs it slightly.
Ownership
While the Alfa scores highly for safety, this area has long been Volvo's domain. Not only did the XC40 chalk up excellent Euro NCAP scores for passive safety – its 97 per cent score in the Adult Occupant Protection class was the best of any car tested in 2018 – but Ultimate trim also comes with the marque's Pilot Assist system. 
This semi-autonomous mix of lane keeping and adaptive cruise control including traffic jam assist is among the smoothest of its type offered by any car maker. It really helps to take strain out of longer journeys.
Running costs
Fuel consumption in a PHEV varies wildly based on how often you can recharge the battery. An XC40 we ran as a long-termer, which was home-charged religiously, mustered a figure of 57.8mpg. But on test, with longer journeys and less frequent charging, that number dropped below 40mpg. 
Used in a similar way, the Alfa was 4.6mpg better off. So not only is it more efficient when the battery runs out, but its longer real-world EV range also means a dedicated PHEV owner will be able to beat the Volvo even more if charging regularly.
The Volvo is expected to hold on to more of its value, though. After three years or 36,000 miles, the XC40 will be worth 57.8 per cent of its original asking price, compared with 51.2 per cent for the Tonale.
Tester's notes: "The optional wool-blend seat fabric feels luxurious and soft. At £825, we reckon it's a great alternative to the full leather option."
Results
First place: Alfa Romeo Tonale
The Tonale has its flaws, but it stands up well against one of the stronger contenders in the class. It's quick, handles well, and has slick in-car tech. However, this victory does come with a caveat. You need to get the right trim to get decent value for money, and the PHEV powertrain we have here is a much better option than the mild hybrid. Still, there's plenty to recommend.
Second place: Volvo XC40
The XC40 has its strengths, such as a more spacious cabin and a better ride than the Tonale, but it has to settle for second primarily because it's not as effective as a plug-in hybrid. It can't go as far on battery power and takes longer to recharge, too. The petrol engine isn't that efficient, but it's also a little slower and the XC40 is more expensive than its rival, too. 
Four plug-in SUV alternatives
Audi Q3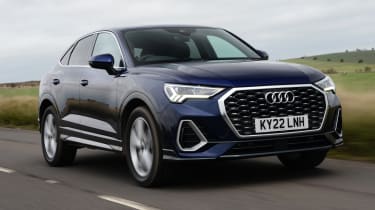 Model: 45 TFSI e Black Edition
Price: £44,070
Powertrain: 1.4-litre 4cyl, 13kWh battery, 242bhp
Compared with some of the flashy alternatives in this segment, the Q3 almost looks subtle. But while it's easy to overlook the styling, there's still plenty to admire. Firstly there's its ride comfort, which is relaxing and supple, yet taut enough to deliver reasonable body control. The Q3 is great at motorway cruising, yet light steering makes it easy to manoeuvre around town.
However, the PHEV powertrain is showing its age. The 1.4-litre four-cylinder works alongside a 114bhp electric motor; not only is the 242bhp output behind the best rivals, but it's clunky in its operation, too. Officially, 31 miles of EV-only range is one of the lowest figures here, and the battery only recharges at 3.6kW, so you'll need to wait longer to not go as far as Alfa drivers on electricity. The cabin doesn't feel as special as we'd hope from an Audi, and it's not as roomy for passengers or luggage as either the Volvo or BMW.
Range Rover Evoque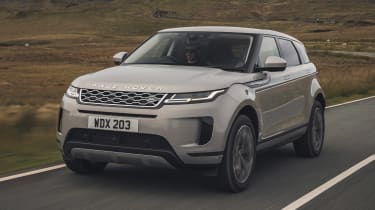 Model: P300e R-Dynamic HSE
Price: £55,615
Powertrain: 1.5-litre 3cyl, 15kWh battery, 305bhp
It's taken four years for another compact premium SUV rival to look quite so striking as the Evoque. Both it and the Tonale have brought concept car styling to the road, and they're the clear choices in this class for the style-conscious.
Unlike the Alfa, which shows signs of cheapness inside, the Range Rover feels very special from the driver's seat.
But the Evoque is more than just a pretty face. Despite its showy looks, it boasts off-road ability that few will ever explore to its full potential. Its 15kWh battery is one of the largest here, and it means you can enjoy silent off-roading, or 34 miles in EV mode on tarmac. 
Teamed up with a 1.5-litre petrol engine, it makes a punchy 305bhp, enough for a 0-62mph time of 6.4 seconds. It's comfortable, and refined, too. However, top-spec models are very expensive, nudging £60,000 even before options - although you do get sumptuous leather and a brilliant Meridian sound system.
BMW X1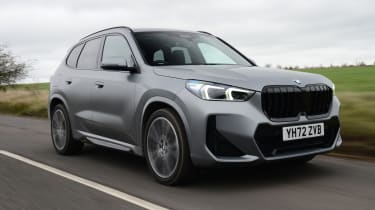 Model: xDrive30e M Sport
Price: £48,250
Powertrain: 1.5-litre 3cyl, 16.3kWh battery, 322bhp
Every car in this segment has at least one notable flaw. For the new X1, it's the ride comfort; on adaptive dampers and 20-inch wheels, it's firmer than even the Tonale. However, in almost every other area the X1 is near or at the top of the class.
We're yet to sample the X1xDrive30e, but we have tried this powertrain in the 2 Series Active Tourer. Beside its rivals here, it feels like a leap forward for PHEV tech. Its 1.5-litre petrol unit and electric motor combine for 322bhp, good for a hot hatch-baiting 0-62mph in 5.6 seconds .
But it's the electric mode that sets the X1 apart. The 16.3kWh battery offers a range of up to 52 miles, and the e-motor makes 175bhp – 53bhp more than the Alfa's and almost 100bhp up on the Volvo's. Throw in great handling, a spacious cabin, brilliant in-car tech and a £48,250 price tag, and the firm ride becomes much easier to excuse.
Mercedes GLA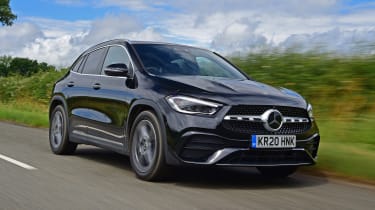 Model: 250 e AMG Line Premium Plus Night Edition
Price: £46,385
Powertrain: 1.3-litre 4cyl, 10.6kWh battery, 215bhp
The GLA has long been one of our class favourites – it's a multiple winner of the Small Premium SUV trophy in our annual New Car Awards.  However, in the face of newer rivals such as the X1 and Tonale, that lead is looking shaky, especially if you solely look at the plug-in hybrid variant. 
On paper, even this top-spec AMG Line Premium Plus Night Edition trim is cheaper than the X1 or Tonale, but with 215bhp, it's significantly less powerful than either. At 10.6kWh, the battery is smaller, too, so its 37-mile EV range means it slips into a pricier Benefit-in-Kind banding. On the road, it sits in the middle of the class for ride comfort, but its handling is only so-so, and models shod with larger wheels generate too much road noise. The interior is great, though, while the in-car tech is brilliant and space is reasonable.
Figures
| | | |
| --- | --- | --- |
|   | Alfa Romeo Tonale PHEV E-AWD Veloce | Volvo XC40 PHEV T5 Recharge Ultimate |
| On the road price/total as tested | £48,495/£51,245 | £51,605/£52,580 |
| Residual value (after 3yrs/36,000) | £24,849/51.2% | £29,823/57.8% |
| Depreciation | £23,646 | £21,782 |
| Annual tax liability std/higher rate | £807/£1,615 | £1,443/£2,887 |
| Annual fuel cost (12k/20k miles) | £1,995/£3,326 | £2,244/£3,740 |
| Insurance group/quote/VED | 38/£626/£510 | 31/£667/£510 |
| Cost of 1st/2nd/3rd service | £869 (3 years) | N/A |
|   |   |   |
| Length/wheelbase | 4,528/2,636mm | 4,440/2,702mm |
| Height/width | 1,601/1,841mm | 1,652/1,910mm |
| Powertrain | 4cyl in-line, 1,332cc/ 2x e-motors | 3cyl in-line, 1,477cc/ 1x e-motor |
|   |   |   |
| Total system power | 272bhp | 258bhp |
| Total system torque | 400Nm+ | 425Nm |
| Electric motor power/torque | 121/250 bhp/Nm | 81/160 bhp/Nm |
| Battery size | 15.5kWh | 10.7kWh |
| Transmission | 6-spd auto/4WD | 7-spd auto/fwd |
| Fuel tank capacity/spare wheel | 42 litres/repair kit | 48 litres/£150 |
| Boot capacity (seats up/down) | 385/1,430 litres | 452/1,281 litres |
| Kerbweight/payload/towing weight | 1,910/510/1,250kg | 1,812/478/1,800kg |
| Turning circle | 11.6 metres | 11.4 metres |
| Basic warranty (miles)/recovery | 3yrs (unlimited)/1yr | 3 yrs (60,000)/3yrs |
| Driver Power manufacturer/dealer pos | N/A | 8th/13th |
| NCAP: Adult/child/ped./assist/stars | 83/85/67/85/5 ('22) | 97/87/71/76/5 ('18) |
|   |   |   |
| 0-62mph/top speed | 6.2 secs/128mph | 7.3 secs/112mph |
| Auto Express economy/range | 41.5/383 miles | 36.9/390 miles |
| WLTP combined | 217.3mpg/47.8mpl | 128.4mpg/28.2mpl |
| Claimed EV range | 42 miles | 28 miles |
| Charge time | 2h 30 min (@7.4kW) | 3h (@3.6kW) |
| Actual/claimed CO2/tax bracket | 157/29g/km/8% | 177/49g/km/14% |
|   |   |   |
| Airbags/Isofix/park sensors/camera | Yes/yes/f&r/yes | Yes/yes/f&r/yes |
| Auto box/lane keep/blindspot/AEB | Yes/yes/yes/yes | Yes/yes/yes/yes |
| Climate control/adaptive cruise | Yes/yes | Yes/yes |
| Leather/heated seats | £2,150/£450* | £825/yes |
| Met paint/LED lights | £700**/yes | £0/yes |
| Keyless entry & go/powered tailgate | Yes/yes | Yes/yes |
| Sat-nav/digi dash/DAB/connectivity | Yes/yes/yes/yes | Yes/yes/yes/yes |
| Wireless charge/CarPlay/Android Auto | Yes/yes/yes | Yes/yes/yes |
Now read our list of the best small SUVs...