A year in cars: our greatest moments of 2015
The Auto Express team pick their highlights from the past year in motoring
The year 2015 was an exciting one for the car industry and a year that we at Auto Express would like to remember fondly. We take a look at our favourite experiences from the past 12 months, including internet-baiting track battles, drives of iconic cars and experiencing the best motoring events in the world.
So scroll down to see what memories will leave a mark on the Auto Express team as we head into 2016...
James Batchelor, News Editor
Driving a DS
I'd always wanted to drive an original (Citroen) DS, but was happy to consign it to the bucket list – something to do once I'd properly grown up. But the chance to get behind the wheel of one this year was just too good to pass up. Even better, the drive would be in the perfect place – on the cobbled streets of Paris.
Behind the camera lens, all was not well – the city was going through a tropical heatwave and, with temperatures nudging 36°C, the DS's leather seats were hotter than the sun. I even got heatstroke, too, although that's another story...
Stuart Morton, Managing Editor
Compiling our Half Price Heroes feature
Auto Express has been telling you about the best deals all year, but the biggest bargains were to be found in our Half Price Heroes special in February. This regular feature is always fascinating, as it shows you what great value some of the finest recent new cars now are second-hand. And the most tempting buy for me had to be a Volkswagen Golf GTI Mk5 – the car that revived the hot hatch legend – for less than £5,000. There's still time to raid your savings, sell the kids' presents and treat yourself for Christmas!
Steve Sutcliffe, Special Contributor
Civic Type R vs M3 vs RS3 track battle
I've been a massive fan of the BMW M3 ever since I can remember, so I was more shocked than most when it lost to the new Civic Type R in a track test showdown against the clock. The tight and twisty circuit suited the Honda's fiery front wheel-drive agility, true, but it still blew my mind when I looked at the stopwatch – and realised the Type R had won. But then the new Civic Type R is some car, even if it does ride like a go-kart with concrete tyres.
Sean Carson, Senior Road Tester
Driving the Porsche 911 GT3 RS
My personal highlight of 2015 has to be our first UK drive of the Porsche 911 GT3 RS. This naturally aspirated, rev-hungry machine is so well honed, it's the best example of the 911 breed. In fact, I think it's the finest sports car on sale today. The sound, the steering and the engine are all sublime – and finally getting it on UK roads proved that, despite its hardcore focus, it's still usable in this country.
Dean Gibson, Deputy Road Test Editor
Land Rover Defender Autobiography first drive
While the Land Rover Defender is cramped, creaky and a bit of a slog to drive compared to any modern car, it was arguably the most fun of any car that I've driven in the past 12 months. It put a smile on my face, my son loved climbing in and out of the back, and even my wife fell for its character. I'd love to own one but, sadly, the Autobiography model's £60,000 price tag is well out of my price range.
Joe Finnerty, Consumer Editor
Covering the SEMA Show
You could accuse some manufacturers of designing clones and simply upscaling them for the latest niche market. So visiting the wacky world of tuning at the SEMA show this year was a breath of fresh air. It's so typically American it couldn't be anywhere other than in Las Vegas, and from jacked up monster trucks to slammed hot rods to modified Mustangs, it's the world's craziest car show. And, with the tuning business a multi-billion-dollar market, manufacturers are paying SEMA more attention than ever.
Martin Saarinen, Consumer Reporter
Becoming a salesman
The Saarinen family tree includes an uncle who was once the top-selling Toyota sales executive in Finland, so I was curious to see if any of his skills ever found their way down to me. I joined the sales guys at Audi Slough in trying out a new piece of tech that allows the sales staff to record their pitches to potential buyers. The CitNOW videos are sent via E-mail in response to personal queries and are slowly transforming the industry, with buyers now heading back to the showrooms. Shortly after our video was uploaded online, the Internet discovered why I don't sell cars for a living.
Richard Ingram, Deputy News Editor
Driving the original Honda NSX
A boyhood dream came true this year when I was given the chance to sample a pair of original Honda NSXs. To mark the arrival of an all-new hybrid model in 2016, we grabbed the keys to see how the first truly usable supercar had aged over the past two decades. It was remarkable how easy it was to drive, while the linear power delivery surprised me even by today's standards. They say never meet your heroes. In this case, I'm glad I did.
James Disdale, Road Test Editor
Blast-off in the Arial Nomad
Our annual Fast Fun Cars shoot-out is always a highlight – and this year's was no exception. The brilliant Porsche 911 GTS was the overall winner, but it was two stripped-out Brits that left the biggest impression. Both the diminutive Caterham Seven and barmy Ariel Nomad abandoned creature comforts in favour of pure driving thrills. In 270R form, the Caterham's ability to connect car and driver and road is unrivalled. The Ariel delivers a similar experience, with the added bonus that you can enjoy it off-road too!
Jonathan Burn, Senior News Reporter
Mercedes F 015 concept ride
While some of my colleagues revel in driving classic cars such as the original DS or first-generation Honda NSX, I like to look into the future. So you can imagine my excitement when I was given the opportunity to ride in Mercedes' visionary F 015 driverless concept earlier this year. The 5.2-metre-long spaceship generates its own electricity, can travel 684 miles on a tank of hydrogen and will even weave its way through traffic totally unaided. Oh, and there's more room inside than the biggest luxury limos, too.
Graham Hope, Deputy News Editor
Unveil of the Mazda RX-Vision
It's rare that the announcement of a car at a press conference prompts a spontaneous round of applause and cheering from a gathering of seasoned journalists. But that was the response when Mazda showed its rotary-engined RX-Vision concept at the Tokyo Motor Show. The return of Mazda's signature tech is a big deal, especially in Japan, and the enthusiasm from both the company and fans for a new RX-7 coupé was infectious. The fact the RX-Vision looked so stunning is the icing on the cake.
Steve Fowler, Editor-in-Chief
Driving the new Volvo XC90
Every now and again, you drive a car you know is super-special within the first few yards. That happened when I got behind the wheel of the new Volvo XC90. I was one of the first journalists to drive it and had been introduced to the car months earlier in Sweden by the design and tech teams – two areas it scores highly. The drive didn't disappoint either, with my summary being it's like a Range Rover, but for half the price.
Video highlights from Mat Watson, Editor-at-Large
Civic Type R vs CBR1000RR
The Internet loves a good car vs motorbike video, and for this one we were able to not only stage a battle between four and two wheels, but also between two of Britain's best racers. The British Touring Car Championship and British Superbikes were both represented as Honda sent its factory driver and rider to do battle, and this video includes my favourite scene I've ever shot – with racer Matt Neal getting massively sideways in the Civic while chasing down rider Dan Linfoot on the CBR. It's worth watching just for that.
Driving to Amsterdam in a BMW i3
This may not have had quite as many views as the video above, but it was a lot of fun – unfortunately, for all the wrong reasons. We set about driving the BMW i3 from the UK to electric car-loving Amsterdam, although my intention to do most of the distance under electric power didn't exactly work out as planned. In fact, the whole event turned into a comedy of errors. You can check out precisely what went wrong by watching the video.
Auto Express Review of the Year 2015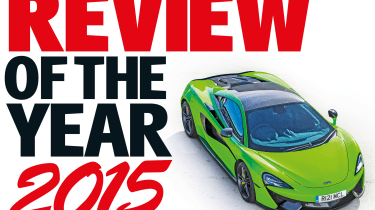 • A year in cars: our greatest moments of 2015• Biggest car news stories of 2015• Roadtest yearbook: the best cars we drove in 2015• Head-to-head: Best car group tests of 2015• Best car videos of 2015• Best motoring features of 2015• Ultimate car quiz 2015