Head-to-head: Best car group tests of 2015
This is our month-by-month guide to the best group test reviews we staged in 2015
It's been another great year. We tested a huge range of cars against each other in 2015 and, to celebrate, we've picked some of our favourite group tests from the last 12 months.
From regular contenders such as the Nissan Qashqai and Land Rover Discovery to brand new stars like the Jaguar XE and Renault Kadjar, we had it all covered in 2015 as they went head-to-head with their nearest rivals.
The Auto Express group test is the ultimate environment for new cars to test their mettle against the best of the challengers in their segment. If you're considering buying one of the cars included, our definitive group test verdicts show where each model excels and where it's found lacking. All of our group tests can be found here.
Scroll down to find out which group tests we've picked and which cars outshone their competitors...
January
Passat too good for Mazda and Ford
The dependable Passat has been a mainstay of the VW line-up for more than four decades, so expectations were high for the latest model.
Sleek design, an upmarket interior and excellent refinement give it a real premium feel, while composed handling and a punchy diesel engine mean it's good to drive. It couldn't quite match the Mazda 6 for fun, but the Passat's broad spread of abilities made it a worthy winner. Ford's Mondeo finished a distant third.
February
Fabia edges i20 in supermini battle
Two new supermini stars were put to the test as we pitched the Skoda Fabia against the Hyundai i20. Both models have turned on the style in an effort to shake off the staid and sensible images of their respective predecessors.
Classy cabins, surprising space and grown-up driving dynamics were also on the menu. Yet both feature attractively low prices and penny-pinching running costs. It was the Skoda's bigger boot and longer list of safety kit that gave it a slender victory.
March
BMW M4 sees off hot RC F Coupé
Lexus doesn't have much of a high-performance tradition, but its RC F Coupé has the specs to get any fast car fan's pulse racing.
At the heart of its appeal is the thumping 471bhp 5.0-litre V8 and rear-wheel-drive layout. So, the RC F looked like giving the 425bhp BMW M4 a run for its money in our twin test. Yet as it transpired, the BMW was faster on track and far more engaging to drive.
Winning start for Disco Sport
It's been a busy year for Jaguar Land Rover, but none of its new arrivals was as eagerly anticipated as the Discovery Sport. With its Evoque-inspired looks and practical seven-seat interior, the British-built SUV had all bases covered when it came up against the Hyundai Santa Fe and BMW X3.
Superb refinement, impeccable road manners and an interior that oozed premium appeal meant the junior Discovery had the measure of the X3, plus it was every bit as practical as the Santa Fe. Assured off-road ability was the icing on the Land Rover's test-winning cake.
April
Rivals bow down to Range Rover Sport SVR
When Land Rover squeezed a supercharged 542bhp 5.0-litre V8 into a Range Rover Sport, the results were always going to be explosive. The Porsche Cayenne Turbo and Audi RS6 had the SVR covered for power, performance and poise, but neither could match its infectious character.
With a bombastic soundtrack, trademark luxury and surprisingly agile handling, the SVR boasted composure and charm. With undiminished off-road ability, it unsurprisingly stormed to victory.
May
XC90 tames Disco in SUV battle
It turned out to be the battle of the big hitters when the Volvo XC90 came face-to-face with the Land Rover Discovery.
The Brit was hugely practical, refined and unrivalled off-road, but it had to play second fiddle to the Volvo. Featuring smart design, a beautifully crafted and spacious seven-seat interior and composed driving dynamics, the XC90 got our vote.
June
New Skoda Superb knocks Passat off top spot
Just a few weeks after the Volkswagen Passat had taken the family car class crown, its place at the top was threatened by the arrival of its latest sister model: the talented new Skoda Superb.
The previous-generation Superb had always impressed with its combination of space and value for money, but this all-new version aimed to bring a welcome injection of style and desirability. Sleek lines and sharp detailing give the Skoda some serious kerb appeal, while inside it matches the Passat for quality and slick design. And because it's underpinned by the same versatile MQB platform as the VW, the Superb is great to drive, too, mixing agile handling with a supple ride and strong refinement.
However, while we reported Skoda had pushed its flagship upmarket, it hadn't forgotten its roots. With a vast boot, attractive prices, plenty of standard equipment and penny-pinching running costs, the Superb is a car that appeals to the head as much as the heart.
Combine these qualities with the Skoda's new-found maturity and style, and a road test victory was guaranteed. The Skoda Superb: rarely has a car been so appropriately named.
July
Mazda CX-3 has edge in crossover crunch
Mazda was late to the compact crossover party, but the stylish CX-3 was well worth the wait. Handsome lines, a classy interior and a surprising amount of space gave the newcomer a head start, but it was the agile handling, strong refinement and competitive running costs that helped the car shine on its road test debut.
While the CX-3 isn't cheap to buy, it feels like a top-quality product. Renault's Captur and Nissan's Juke are distinctive and well equipped, but neither felt as good.
August
Qashqai too good for HR-V
Nissan's Qashqai has often been credited with creating the crossover craze, but the original Honda HR-V beat it to the showrooms by nearly six years.
Yet slow sales meant the quirky, high-riding hatchback disappeared from showrooms in 2006. So was it second time lucky for the all-new model, which hit showrooms in late summer?
Bold looks, a roomy interior and decent comfort helped it see off the Peugeot 3008, but a sluggish CVT gearbox and high price saw the Honda finish second to the Qashqai.
September
XE holds off revamped 3 Series
One of our most bruising encounters of the year took place in September.
No sooner had the Jaguar XE been named top compact executive in our New Car Awards, than BMW unveiled its revised 3 Series. Tweaked looks, sharper handling and lower running costs make it more desirable than ever. But the Jag's lower company car costs and longer list of kit saw it take the win.
Disco claims Tow Car of the Year
Once again we teamed up with the Caravan Club to name the year's best tow car. We ran the rule over 43 models in seven categories, assessing each for its performance, handling and practicality when hitched to caravans.
The MG6, Renault Captur, VW Jetta, Skoda Octavia Scout, VW Passat and VW Touareg all took awards, but it was Land Rover's Discovery that won overall.
October
BMW X1 shakes off SUV rivals
Despite its SUV styling and desirable badge, the original BMW X1 missed the target. Not only did it feature awkward looks and high prices, it lacked the jacked-up driving position that crossover buyers demand.
In an effort to revive the car's fortunes, BMW pulled out all the stops with the second-generation X1. With scaled down X3 looks, engaging dynamics, low running costs and a roomy, classy cabin, the new model is a revelation. The revised Range Rover Evoque and Audi Q3 didn't stand a chance.
November
Classy Kadjar ends Qashqai's reign
In early November, we ran the rule over a pair of closely related crossovers. The Renault Kadjar has bold, high-riding styling, but under the skin it is virtually identical to the Nissan Qashqai.
Both cars on test featured a punchy 1.5-litre diesel, composed handling and excellent refinement. And they also offer family-friendly practicality and low running costs. In the final reckoning, the Renault's £1,500 price saving and classier looking interior were enough for it to seal victory.
XF pips A6 to executive car crown
Given the success of the Jaguar XE, hopes were high for the larger XF model – and it didn't disappoint.
Sleek looks, a cosseting cabin and composed driving dynamics are the highlights, while the V6 diesel delivers a strong blend of performance and efficiency. The cabin can't match the Audi A6, but a more attractive price and longer kit list helped the XF take the win.
December
Clubman's a hit, but it can't topple Golf
MINI was hoping for an early Christmas present when its new Clubman faced a pair of talented rivals.
Easily MINI's biggest model, the new Clubman took its predecessor's 'twin barn door' style tailgate opening, and grafted it on to the back of the five-door.
The result was a machine that combined a decent 360 litres of boot space and a roomy cabin with the firm's trademark fun driving experience. The Clubman saw off the pricey Volvo V40, but couldn't match the VW Golf.
What was your favourite group test of 2015? Let us know in the comments section below...
Auto Express Review of the Year 2015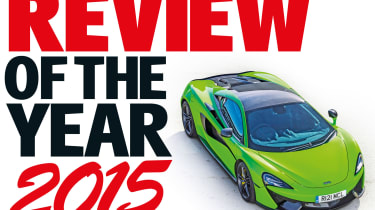 • A year in cars: our greatest moments of 2015• Biggest car news stories of 2015• Roadtest yearbook: the best cars we drove in 2015• Head-to-head: Best car group tests of 2015• Best car videos of 2015• Best motoring features of 2015• Ultimate car quiz 2015