The biggest car news stories of 2015 round-up
We round up the biggest car news stories that made 2015 an unmissable year
July
Cutting-edge Volvo XC90 crowned Car of the Year 2015
It had already been a bumper year for new models, so picking our 2015 Car of the Year was even tougher than usual. But after hours of argument and debate, one contender emerged head and shoulders above the rest: the Volvo XC90.
To win this coveted accolade – which Volvo R&D chief Peter Mertens collected from our editor-in-chief Steve Fowler – a car needs to break the mould and set new class standards. We think the XC90 does just that with its striking styling, beautiful cabin and top-notch quality, plus it can battle upmarket rivals from BMW, Audi, Land Rover and Mercedes with its composed driving dynamics, potent engines and great refinement.
• Auto Express New Car Awards 2015
Yet it's the hi-tech approach that makes the Volvo an award winner. As you'd expect from the brand, there's cutting-edge safety kit, while the tablet-style infotainment touchscreen set-up looks good, and works well, too. There's also a range of plug-in hybrid models combining muscular pace with supermini-style efficiency.
Factor in the versatile seven-seat layout, spacious cabin and attractive prices, and the XC90 was a very worthy winner of our top award.
Alfa whets appetite with striking 500bhp Giulia
One of the most eagerly awaited cars in a long time is the new Alfa Romeo Giulia, which was revealed in July – and petrolheads the world over instantly pined for the 500bhp on offer from the Quadrifoglio version.
The Giulia is the first of eight new Alfas due by 2018, and moves into the compact exec territory abandoned when the 159 was discontinued. Its bold design's a world away from that of the angular 159, with the trademark 'V' grille part of a muscular body complete with styling cues from the 4C sports car, such as the window line.
Alfa boasts of 50:50 weight distribution, and use of lightweight materials throughout means even the heaviest Giulia is likely to weigh just 1,500kg. CEO Harald Wester was keen to point out that the Giulia will offer a unique experience in the executive car sector, focusing on the driver and maximum involvement.
August
Exclusive images give best clue yet to Vauxhall's hi-tech new Insignia
August gave us an early taste of what is in store from the next Vauxhall Insignia – a car that is around two years away and that will be pitched at BMW and Mercedes, but at typically mainstream prices.
Our exclusive images revealed how the family and fleet favourite is shaping up, and when it debuts it'll introduce Vauxhall's new Design 2.0 programme. It's likely to be longer than the outgoing model by as much as six inches, with a more coupé-style roofline and a sleek hatchback rear. The nose will be redesigned, making it more upright and almost echoing the shape of recent Jaguars. 
The Insignia's new design was previewed by the Monza concept, which Vauxhall said will preview the brand's design language for the next 8-10 years. 
We've since driven the new Astra, and were extremely impressed – so if the new Insignia follows that car's success when it's eventually launched, Vauxhall may have a winner on its hands.
Sexy C-Class Coupé uncovered
Mercedes took the wraps off its sexiest car for a generation – the Coupé version of the C-Class. 
• Mercedes-AMG C63 Coupé review
The reveal ahead of its debut at the Frankfurt Motor Show confirmed our expectations of a sloping roofline and curvaceous rear. Underneath, it's business as usual, with the same engine range and interior as the saloon. Mercedes also hinted at a plug-in hybrid.
September
F-Pace makes its debut at last
Jaguar unveiled its eagerly anticipated F-Pace crossover at the Frankfurt Motor Show. The SUV will sit somewhere between the Audi Q5 and Audi Q7, costing from £34,170, with first deliveries in April.
Ian Callum, Jaguar's chief designer, was uneasy about designing the F-Pace, with the company having no heritage in that part of the market. However, changing tastes made it a necessity for the brand – as the SUV sector is currently the fastest growing in the UK.
Despite not being as long, low and sleek as most other models in the Jag line-up, the F-Pace is still instantly recognisable thanks to the upright grille and smart headlights. 
And it's based on the latest Jaguar platform, which allowed the wheels to be pushed right out to the corners for impressive space inside. The all-aluminium design means the F-Pace should have the same handling prowess as its F-Type, XF and XE siblings.
Bentayga stars at Frankfurt
After months of drip-fed teaser images, Bentley finally unveiled the Bentayga SUV at the Frankfurt Motor Show. The mega Bentley's debut came after a troubled start in life, as the car's development spanned three design directors and two CEOs. 
• Bentley Bentayga video review
It'll initially launch with a new 6.0-litre twin-turbo W12 engine, although a hybrid and more efficient diesel will join the range later. Bentley claimed the Bentayga would be the world's fastest SUV; we've since driven it and found it lived up to the hype.
Volkswagen emissions scandal breaks
We get the first details of what was probably the biggest motoring news story of the year after the Frankfurt Motor Show. 
• We talk to Matthias Müller regarding 'dieselgate'
Details are still coming through, so for all of the latest information on a news story that only seems to roll on, click here.
DB11 name for Aston's new sports car
Aston Martin revealed the name of its DB9 replacement, confirming the all-new sports car will be called DB11. 
Our exclusive image showed how the car will take inspiration from James Bond's DB10, which wascrafted for his latest film, Spectre. 
The DB11 will make use of Aston's relationship with Daimler-Mercedes, so expect to see Mercedes switchgear and possibly an S-Class-style dash. The car is likely to officially debut at the Geneva Motor Show in March.
October
X marks the spot for Tesla's all-electric SUV
The electric car was reborn when Tesla released the Model S in 2012, and in October the brand shook things up further with the official announcement of its Model X SUV. The all-electric 4x4 gets seven seats, two boots and class-leading space, but as expected from Tesla it boasts its fair share of innovative features, too.
The 'falcon-wing' rear doors divided opinion at launch, yet as a party piece there's little out there with more wow factor. We'll have to wait until we drive one to decide whether or not they aid practicality in the real world. 
Inside, the Model X showed off super-slim seats that maximise interior room, alongside the 17-inch touchscreen with sat-nav and Wi-Fi from the Model S. The SUV provides blistering performance, with the 0-60mph sprint taking only 3.8 seconds. Driven gently, a range of 257 miles should be possible.
Cult film celebrated as future finally arrives
On 21 October 2015, the world went a little crazy as cult classic Back to the Future II became a reality. In the eighties' hit movie, Marty McFly and Doc Brown stepped out from the time-travelling DeLorean on that very day.
• Best movie cars as voted by you
Consumer editor Joe Finnerty got behind the wheel of the car and dressed up as Marty to recreate the iconic film poster. We looked at which futuristic predictions made in the movie had come true – and we're still waiting for our hoverboard...
November
Fiat's MX-5 is unveiled at LA show
Fiat saw out November with a bang by finally revealing the all-new, retro-inspired 124 Spider. 
Huge crowds gathered at the Los Angeles Motor Show to get a glimpse of the roadster, and the results are certainly striking. It's based on the latest Mazda MX-5, which is no bad thing, but Fiat has added plenty of its own touches both on the outside and under the skin.
That jutting jawline and the caved-in headlamps hark back to the original 124 Spider, while the rear end has a hint of Dodge Viper in the design. Below that long bonnet, the firm will use a 1.4-litre turbocharged MultiAir unit with 138bhp and 240Nm of torque. That should make it feel a bit quicker than the MX-5, butperformance fans should wait for the forthcoming Abarth version, which could be tuned to around 200bhp. In an open-top two-seater weighing around 1,000kg, that's quite a recipe.
Price-wise, expect the standard 124 Spider to kick off from around £20,000 when it goes on sale in 2016.
New Evoque cabrio is in a class of its own
Make a note of November 2015 as the month that a new class of car was created. 
The Range Rover Evoque Convertible might not be the first off-road vehicle with a folding roof, butit's the first premium SUV to get one. It will arrive just in time for summer next year, and has a fabric roof that folds away behind the rear seats. There's even a 251-litre boot for wellies and walking gear.
We got the chance to ride in a prototype version of the Evoque Convertible on an off-road course, and what impressed us most was the way it tackled the rough terrain without a hint of chassis wobble. 
It's a trait often found in convertible cars, but the baby Range Rover coped well. That bodes well for its on-road manners, too, but we'll have to wait until 2016 to drive it. When the car launches, it'll cost about £5,000 more than the normal Evoque, with prices from around £47,500.
December
DS 3 SUV set for 2018 debut
Another Auto Express exclusive revealed newly formed DS's plans to take on the popular compact SUV segment in 2018. 
The next-generation DS 3 premium supermini will spawn a more rugged, five-door DS 3 SUV, pitched to tackle mainstream models like the Mazda CX-3 and more premium challengers such as the forthcoming Audi Q1. Our image showed its stylish design, with familiar DS touches that will be crucial in this fashion-led sector. Now separated from Citroen and thrust upmarket, DS aims to have six new cars in its range by 2020, and an SUV is a crucial part of that.
The interior should showcase a big step up in quality from the current DS 3, while a range of urbocharged petrol and diesel engines will feature, plus there's even a possibility of a plug-in hybrid. DS also told us to expect an all-new executive car to take on the Audi A6, a larger SUV and an innovative suspension system.
Full details on new 911 Turbo
As on the facelifted Porsche 911 Carrera we drove earlier in the year, the cosmetic changes to the new 911 Turbo weren't exactly groundbreaking. 
There are some new lights and a revised rear spoiler – but what matters with a 911 Turbo is under the skin. So it comes as no surprise that the latest version is more potent than ever. A 20bhp boost means the Turbo S will now hit 205mph flat out, while two-tenths of a second have been shaved off the 0-62mph time, which now stands at 2.9 seconds for the S. 
Auto Express marks 1,400 issues
It's not just the festive season we're celebrating at Auto Express – there's a special anniversary of our own to mark, too. We've hit 1,400 issues!
We've done a special road test featuring our very first cover car, plus put together a huge road test of some unique, wacky and much loved cars that have a 1,400cc engine!
What did you think was the biggest news, car reveal or motoring event of 2015? Let us know below...
Auto Express Review of the Year 2015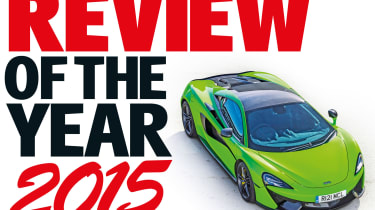 • A year in cars: our greatest moments of 2015• Biggest car news stories of 2015• Roadtest yearbook: the best cars we drove in 2015• Head-to-head: Best car group tests of 2015• Best car videos of 2015• Best motoring features of 2015• Ultimate car quiz 2015