Living Legends
We bring 10 motoring classics head-to-head with their brand new equivalents to see which are the greatest...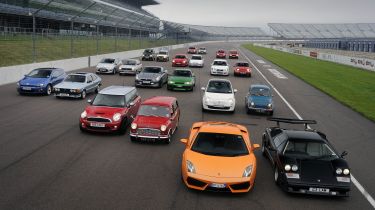 Defining what makes a great car is a task that has kept motoring fanatics arguing for more than a century. To some, it's the design that counts, while for others, engineering breakthroughs are more important. And what about the sales stars – the models that turned their makers into global players overnight?
It seems the only thing we can all agree on is the fact that a great car – of which there have been many over the years – is almost impossible to categorise. But what happens when a manufacturer tries to recreate that magic formula years later? Can a car become a living legend merely by ticking the same boxes as its predecessor, or is it impossible to recapture the spirit and excitement of an original?
Well, now is the time to find out. We've lined up 10 undisputed motoring champions alongside their current equivalents to discover how the superstars of today compare to their famous, groundbreaking predecessors.
But this is no ordinary road test. We have ditched the usual high-speed time trials and braking tests in favour of some more subjective criteria. To establish whether any of our new machines is good enough to wear the title 'living legend', we went in search of qualities that a stopwatch simply can't capture.
We were looking for spirit, feel and personality – exactly what engineers and designers have spent over 100 years trying to capture in their cars.
Thanks to all the owners who helped make our road test special possible: PeterLewis (190E Cosworth), Thierry van Elst (Panda), Colin Seymour (480ES), Ford Heritage (Fiesta), Ross Stewart (Skyline), Robert Jamieson(GT-R), Katy Corrie (500L), Boyce Wheal (Mini), Tom Steenholdt(Countach). Also, thanks to Rockingham Motor Speedway, Northants(www.rockingham.co.uk)
Verdict