Jaguar MkI saloon
Built between: 1955-1959, number sold: 37,397, cool cat factor: 5/5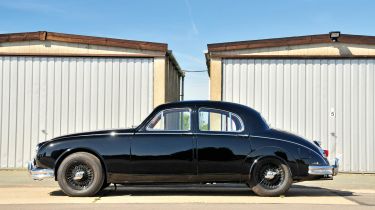 Glamorous sports cars grabbed the headlines for Jaguar in the early Fifties, but the firm also understood the importance of its saloons, and had already started work on a new mid-sized model.
It has subsequently become known as the MkI, but at its 1955 launch, it was simply the 2.4-litre saloon. However, there was nothing simple about its design. It was the first Jaguar to feature a unitary pressed-steel body, while spats were fitted to the rear wheels to reduce drag and give the MkI a clean profile. A narrow XK140-inspired radiator grille meant the styling was typical Jaguar. The 2.4-litre straight-six from the XK sat under the bonnet, but customers in the US wanted more power, so in 1957 the 3.4-litre version was introduced.
The black car in our photos is a great example of the latter model. It is distinguished from the 2.4 by its cutaway rear spats, which were designed to help brake cooling, subtle 3.4 badges and a broader radiator. It had 210bhp, could sprint from 0-60mph in nine seconds and went on to a top speed of 120mph. A manual gearbox was standard, with overdrive optional. By September 1957 all-round disc brakes became an option, too.
These innovations helped the MkI to success in saloon car racing, and proved Jaguar's performance prowess wasn't confined to two-seaters. Arguably one of the world's first 'sports saloons', the MkI proved that four-door models weren't best left for the chauffeur to drive.
Details
WHY: Four-door packs punch from XK sports car.