Jaguar D-Type
Built between: 1955-1956, number sold: 87, cool cat factor: 5/5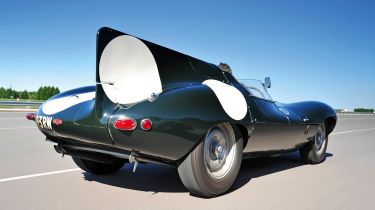 For many enthusiasts, the D-Type is the most famous racing Jaguar of all-time. It sealed a hat-trick of Le Mans victories in 1957 and like the C-Type before it, was campaigned by the factory and sold to customers.
Built around an all-aluminium monocoque, it came in long and short nose bodystyles. The famous tailfin was a last-minute addition to improve high-speed stability, and the D-Type also featured advanced disc brakes from the outset, as well as Dunlop alloy wheels. The latter were stronger than the wire rims fitted to the earlier C-Type.
Other innovations included a synchromesh gearbox, improved cooling and, from 1956 onwards, Lucas-developed fuel injection. With 250bhp and a slippery shape, the D-Type was built for the long straights of Le Mans and gained a reputation for tricky handling on tighter tracks. Even today, this 54-year-old car is very fast. It instantly feels more of a racer than the C-Type, thanks to stronger brakes and livelier responses.
The long-nosed car pictured won the 1956 Reims 12 Hours enduro and finished sixth at Le Mans in the same year, after its experimental fuel injection caused a misfire. Now fitted with the carburettors it used at Reims, it's a near priceless classic.
Only 87 D-Types were produced, and 16 of these were converted into road spec and became the XK-SS. But success on the track is what places the D-Type so high in our final ranking (see back page). The Jaguar factory withdrew from racing in 1956, but the car's job had been done. It had established the firm's racing pedigree and contributed to the look of the legendary E-Type. Some legacy...
Details
WHY: D-Type successor is A Le Mans legend, too.