Hyundai i30 N - best hot hatchbacks
The Hyundai i30 N is genuinely great on British roads, making it a worthy rival to the competition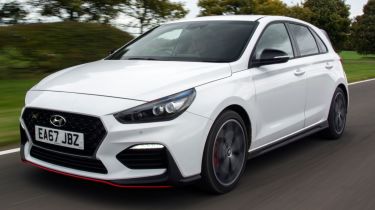 Hyundai was once a brand synonymous with bargain basement models, which had little personality. But now, it offers a range of great cars which goes from SUVs and family hatchbacks, to tiny city cars. However most important to this list, thanks to its 'N' division there is a cracking hot hatch.
The i30 Nis based on the standard i30, but has a 2.0-litre 4cyl turbo petrol engine producing either 247bhp in standard tune, or 271bhp in Performance Package state. This enables the South Korean hot hatch to reach 62mph from a standstill in 6.4 seconds, while theengine performance and handling makes the car come alive on twisty British B-roads. That said, the sportier suspension settings can make the ride too hard for some of our worst ribbons of tarmac, but the car is endlessly configurable, so you should be able to find the optimum setup for yourself.
Inside, the Hyundai is similar to what you get in the rest of the range. The i30 N won't reach the levels of some of its more focused rivals, but a drive mode selector on the steering wheel and a pair of supportive seats help separate the hot Hyundai from its more lowly standard siblings.
Top 10 best hot hatchbacks