Mitsubishi Outlander PHEV - best hybrid cars
Mitsubishi Outlander is a hi-tech, plug-in hybrid which delivers 148mpg and has all the benefits of a large, tough compact SUV as well.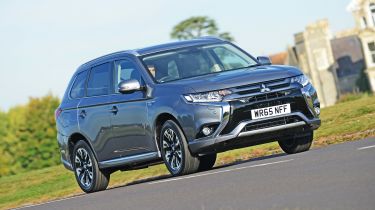 The Mitsubishi Outlander PHEV is the first plug-in hybrid SUV on sale in the UK. As a result of its hi-tech powertrain, this four-wheel-drive, five-seat SUV can run on electricity for 32 miles, and promises fuel economy of 148mpg and CO2 emissions of 44g/km. 
What's the plug-in Outlander like to drive? In a word, silent. The PHEV is much quieter than the regular diesel Outlander, no matter which operating mode it's in – petrol engine and electric motors working together, or as a pure EV.
That's partially to do with enhanced sound deadening, but also because the hybrid powertrain favours running on electricity only. The petrol engine is used mostly as an electricity generator – much like that in the Vauxhall Ampera – and is audible when it starts up, but it's never loud or rough.
At the Outlander PHEV's heart is a large-capacity battery and a pair of electric motors – one on each axle to provide four-wheel drive – that generate a combined 161bhp, and when you add in the engine it's a total of 204bhp.
The positioning of the battery between the wheels and a ride height drop of 30mm compared to the regular car also mean that the PHEV has a lower centre of gravity. While it changes direction well enough, its extra 200kg can be felt, and the ride is jarring on poor surfaces.
Top 10 best hybrid cars