Used Peugeot 3008 (Mk1, 2008-2016) review
The Peugeot 3008 mixes 4x4 style with MPV practicality, and has low running costs and a comfortable, roomy interior
Verdict
The Peugeot 3008 is one of the UK's most popular family crossovers. Launched in 2008, it used the same architecture as the Peugeot 308 hatchback to offer the practicality of an MPV with the high-riding stance of an SUV. It even spawned the world's first production diesel-hybrid, although this was dropped as part of the facelift in 2015.
With impressive diesel engines and a well thought-out interior designed to accommodate family life, the 3008 continues to be a worthwhile consideration. However, it's beginning to feel dated now, even after that mid-life refresh, so you need to choose very carefully if you have your heart set on the Peugeot.
Which one should I buy?
Best Peugeot 3008 for low mileage: Peugeot 3008 1.2 PureTech 130 Allure
Best Peugeot 3008 for low costs: Peugeot 3008 1.6 BlueHDi 120 Active
Best Peugeot 3008 for towing: Peugeot 3008 2.0 BlueHDi 150 Allure
The Peugeot 3008 went on sale in 2008 with 1.6-litre (120bhp or 150bhp) turbocharged petrol engines and 110bhp 1.6-litre or 150bhp 2.0-litre diesel engines. There were three trim levels (Active, Sport and Exclusive), and by January 2011 there were SR and Envy specials, too.
From June 2010 there was a 163bhp 2.0 HDi automatic option, then in October 2010 the 1.6 HDi was updated, becoming the 1.6 e-HDi 112. The diesel/electric HYbrid4 first appeared in summer 2010 with CO2 emissions of 99g/km; this was cut to 91g/km in autumn 2012.
A facelifted Peugeot 3008 arrived in January 2014 with more equipment and a more efficient 1.6 HDi engine, now rated at 115bhp and with CO2 emissions of 125g/km. The HYbrid4's CO2 was also cut to just 85g/km.
There used to be a wider selection of 3008 models. The four-wheel-drive HYbrid4, launched in 2012 disappeared from sale later on in 2015, along with an old 1.6 HDi engine, a more modern 2.0 BlueHDi unit and a turbocharged 1.6-litre petrol engine.
By the end of its life, the 3008 range consisted of a three-cylinder, turbocharged 1.2-litre petrol engine and two BlueHDi diesels: a 1.6 with 118bhp and a 2.0 with 148bhp. There were only two trim levels: Active and Allure. The 2.0 BlueHDi was available only with the more expensive Allure trim.
Peugeot's HYbrid4 looked good on paper, but the high purchase costs when new were rarely offset by amazing economy; a regular diesel is cheaper and likely to be almost as frugal. As a used buy, there are few HYbrid4s to choose from, and its clunky EGC transmission spoils the driving experience, which is why we'd avoid it in any 3008.
All 3008s come with electric front windows, air-con, ESP and remote central locking. The Sport trim level adds alloy wheels, rear parking sensors and cruise control, while Exclusive trim comes with a glass roof, automatic lights and wipers, head-up display, tyre-pressure sensors and climate control. We'd also recommend a 3008 with the optional Dynamic Ride Control.
What are the alternatives?
The 3008's toughest adversary is the Skoda Yeti, which is more expensive but always does well in our Driver Power surveys.
Another more costly option is the Volkswagen Tiguan, which is conservatively designed but shares most of the Yeti's attributes. The Nissan Qashqai is another excellent all-rounder; the original was an impressive machine but the Mk2, while very talented, is proving to be less reliable.
The Kia Sportage and Hyundai Tuscon are more dependable, and they're also good value with lots of standard equipment and long warranties. Meanwhile, the Citroen C4 Picasso/SpaceTourer and Renault Scénic are good value and in plentiful supply.
Peugeot 3008 vs Volkswagen Tiguan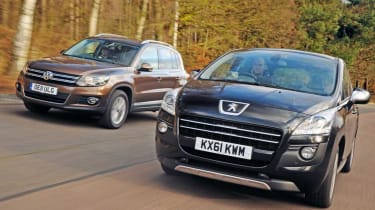 A tough challenge faced the 3008 hybrid crossover when we pitched it against the hugely popular VW Tiguan. Not to be overshadowed by its German rival, the Peugeot scored highly for its bold exterior styling, more upmarket interior and better fuel efficiency. Read the full test...
Peugeot 3008 vs Mercedes C-Class
In what appeared to be a mismatch, the 3008 faced an even tougher test when it went up against the Mercedes-Benz C-Class saloon. A lot of the Peugeot's standard equipment would cost extra on the Mercedes, but the C-Class clawed back some points for its superior motorway manners. Read the full test...
Honda HR-V vs Nissan Qashqai vs Peugeot 3008
In 2015, the all-new Honda HR-V faced a couple of the crossover market's star players when it went up against the Nissan Qashqai and 3008. By then, the Peugeot was beginning to show its age, so it finished third, with the Qashqai taking class honours. Read the full test...
How much will a used Peugeot 3008 cost?
When Peugeot launched the 3008 in 2008, it did a great job of marrying mainstream value for money with an upmarket feel to rival some premium crossovers. Its popularity means that there are plenty to choose from on the used car market, with the earliest examples available for the price of a deposit on a new car.
Prices
A late model should cost around the same price as a new Ford Fiesta, so you're getting a spacious and practical crossover for the price of a supermini. At the other end of the market, early cars are available for less than £1,000. The slump in values is partly because of the launch of the new 3008 in 2016, along with the sheer amount of choice on the used car market.
You can get the latest prices at our sister site BuyaCar, as well as use the valuation tool to discover what to pay for the engine and trim level combination you're keen on.
Fuel economy and emissions
The diesel-electric HYbrid4 can return 85.6mpg combined and emit 85g/km of CO2, which makes it the eco champion of the 3008 range. However, there isn't a bad 3008 for emissions, even the petrol.
Starting with the PureTech petrol engine, it offers a claimed 57.6mpg and 115g/km of CO2. The manual 1.6 BlueHDi achieves 68.9mpg and 108g/km, while the automatic EAT6 version slips to 67.3mpg and 109g/km. The 2.0-litre matches the 1.6 manual for economy but actually emits less CO2, at 106g/km.
As with other cars, larger wheels can affect the 3008's economy and emissions. The above figures are for Active models running on 17-inch wheels, but step up to Allure models with 18-inch wheels and the petrol drifts to 54.3mpg and 120g/km, the automatic version of the 1.6 diesel is rated at 65.7mpg and 112g/km, and the 2.0 BlueHDi offers 67.3mpg and 109g/km.
The only exception is the manual 1.6 BlueHDi, whose economy and emissions remain the same no matter what size wheels it has.
Smaller, 16-inch wheels, fitted with mud and snow tyres to maximise traction in poor conditions, were an option for both trim levels. However, they have the same detrimental effect on economy/emissions model-for-model as upgrading from 17-inch to 18-wheel wheels. The 16-inch wheels were only included if the Grip Control ASR+ traction control system was specified.
With a 60-litre fuel tank, even the least economical 3008 – the 1.2 in Allure specification – has a theoretical range in excess of 700 miles. At the other end of the scale, both the manual 118bhp BlueHDi and the 2.0 diesel on 17-inch wheels should be capable of around 910 miles on a tank, if driven exceedingly carefully.
Running costs
All petrol-engined 3008s need to be serviced every 16,000 miles or 12 months; for diesels this is annually or every 12,500 miles. From three years old, the services alternate between minor and major, at £140 and £250. There's also an 'Essentials' option using 'pattern' parts that cuts these bills to £115 and £195.
The timing belt needs to be changed every 10 years or 112,500 miles, although it's better to do it at eight years or 100,000 miles because the belts aren't as durable as Peugeot reckons. The brake fluid should be changed every two years (at £49) and fresh coolant is required after four years or 80,000 miles, then annually.
Insurance groups
An interesting quirk with the Peugeot 3008 range is that the higher-specification Allure trim level models are actually one group lower for insurance than the Active cars. This is because stepping up in grade adds a Thatcham Category 1 alarm, front parking sensors, a reversing camera, a parking space measurement system and a colour head-up display to the Peugeot's armoury, in theory making the car less likely to be stolen, involved in a crash or scraped during low-speed manoeuvring.
The Allure 1.2 is in group 19, while the same-spec versions of the 1.6 BlueHDi and 2.0 BlueHDi are in 20 and 24 respectively, compared to 20, 21 and 25 for the Active versions. Fitting the automatic gearbox to the 1.6 diesel does not affect the 3008's insurance group.
What do owners think?
The 3008 made its Driver Power debut in 2013, in 78th place. By 2015 it had dropped to 105th, so it's impressive that by 2016 it was in 69th place. Practicality (24th) and running costs (47th) boosted its score, but 115th for build quality and 90th for reliability are less impressive.
Reliability
Although dealer service and the Peugeot 3008's build quality have improved, reported electrical faults mean it's not as reliable as the Nissan Qashqai or Volkswagen Tiguan.
How practical is it?
Practicality is a strong point for this crossover. Three passengers can sit comfortably in the back thanks to the long wheelbase and high roofline.
Up front, the glovebox is tiny but the huge door pockets and large storage compartment in the centre console make up for this. All models get the Family Pack, which brings in additional underfloor storage compartments beneath the passengers' feet.
Both the 1.2 PureTech and the 2.0 BlueHDi can haul 1,500kg of braked trailer, while the 1.6 diesel – whether manual or automatic – can tow 1,300kg.
Dimensions, cabin and boot space
It's not a particularly long car, at less than 4.4 metres nose to tail, but it's very wide at 2,113mm – which includes the door mirrors. It's tall too, standing at 1,639mm. The Nissan Qashqai is about the same length, but slightly shorter and narrower.
Peugeot offers rear parking sensors on all 3008s, with more parking assist functions on Allure models, to make it easier to manoeuvre.
The 3008's kerb weights start at 1,400kg for the petrol and rise to 1,530kg on the 2.0 BlueHDi.
The car's height leads to plenty of headroom, with 918mm up front and 876mm in the rear. Elbow and shoulder room are good, too, with 1,476mm and 1,451mm respectively up front and 1,480mm and 1,403mm in the rear. There's also plenty of legroom front and rear, so the Peugeot is perfectly capable of carrying four adults easily, and even five in reasonable comfort.
The boot is a decent 512 litres, beating that of many of its rivals. With the rear seats folded, load space increases to 1,604 litres if loaded up to the ceiling.
By comparison, the Nissan Qashqai falls behind with 430 litres with the rear seats up and 1,585 litres with them down. The Skoda Yeti offers just 416 litres of boot space with the seats in use, but an impressive 1,760 litres with them folded.
The 3008's boot has a false floor that splits three ways, so there are plenty of combinations to suit a variety of loads. The floor is carpeted and features plastic trim finishers to prevent knocks and scrapes.
There's also a plastic cover that sits over the lower half of the tailgate when it's dropped open, so the hinges aren't left exposed. This then doubles as a handy seat, much like in a Range Rover, which is a useful feature when you're out and about.
Equipment and technology
The 3008 was available with a number of different trim levels, with Access, Active, Allure, Exclusive and Sport proving to be the most popular. Standard equipment includes air-conditioning, electric front windows and remote central locking, plus the handy Family Pack, which provides some useful underfloor storage.
Before the 3008 made way for the all-new model in 2016, the range had been reduced to just two trim levels. As a result, you get more standard equipment, so we'd recommend buying a later model for the best value for money.
Standard kit on Active cars includes 17-inch alloy wheels, air-conditioning, rear parking sensors, cruise control with speed limiter, six airbags, split tailgate, automatic headlights, rain-sensing wipers, chrome exterior pack, radio/CD player, Bluetooth and USB port.
Allure adds 18-inch alloy wheels, leather effect upholstery, reversing camera, front and rear parking sensors, head-up display, dual-zone climate control, rear window blinds, sat-nav, dark tinted rear windows and a panoramic sunroof. There was also a category one alarm system, which should help to reduce the cost of car insurance.
Safety
The Peugeot 3008 scored a full five-star Euro NCAP rating when it was crash tested back in 2009, with 86 per cent for adult occupant protection and an impressive 97 per cent in the safety assist category. Six airbags, seatbelt reminders, an electronic parking brake, ESP stability control and Isofix mounting points for child seats are standard.
The front-wheel-drive 3008 could be specified with Grip Control when new, which adjusts the traction control to improve progress in trickier road and weather conditions. Grip Control requires 16-inch wheels with specialised tyres to be fitted.
What's it like to drive?
We'd opt for a diesel version of the Peugeot 3008 with a manual gearbox, because neither the petrol engines nor the automatic versions are particularly great to drive.
Engines and performance
The Peugeot 3008 performs well as a relaxing long-distance cruiser. It won't provide an exciting driving experience through the corners, but the high-riding Peugeot feels smooth on bumpy roads.
There's a solitary petrol offering: the 1.2-litre PureTech three-cylinder turbo unit. It's a gem in smaller, lighter Peugeots, but you have to rev it to get decent performance in the 5008, so we'd recommend looking at the diesels instead.
The 1.6 and 2.0 BlueHDi diesels are much livelier than the outdated units that the 3008 used before. The more powerful 2.0 is also the cleanest, if fitted with 17-inch wheels. However, the 1.6 is a quieter engine and because it's almost as economical we'd buy this over the more expensive 2.0 BlueHDi.
Avoid the EAT6 automatic transmission, which is only available on the 1.6 BlueHDi. It's not a great gearbox by any stretch of the imagination, because it's quite jerky and slow to react to driver inputs. Furthermore, it has a minor punitive effect on fuel economy and emissions. Stick with Peugeot's perfectly fine six-speed manual gearbox on the 1.6 and you'll be happy.
Which 3008 is the quickest is debatable. Given its quicker 0-62mph time of 9.7 seconds and its huge torque advantage, logic says the 2.0 BlueHDi is the most rapid model. However, gearing dictates that it's actually the otherwise lacklustre 1.2 petrol that takes the 'fastest' crown, because it's 3mph quicker than the 2.0 diesel, at 124mph.
Nevertheless, as acceleration and mid-range torque are more relevant to owners than a top speed well in excess of the national speed limit, the 148bhp BlueHDi is the variant to pick if performance is your key motivator in buying a crossover.
Our choice, the lovely 1.6 BlueHDi engine, is actually the slowest 3008 in the range, with a 0-62mph time of 12 seconds in our preferred manual guise; opt for the EAT6 auto and that slips to 12.4 seconds as a result of longer gearing, although as a consequence the top speed increases from the manual's 112mph to 114mph on the EAT6.
On the road
The high driving position provides a commanding view of the road ahead, but the 3008 also benefits from superb all-round visibility. The large expanse of glass helps, especially if you opt for a model with a panoramic glass roof, and the rear quarterlight windows provide excellent visibility when reversing.
On the road, the 3008 doesn't feel as engaging as many of the more modern crossovers, including the current Peugeot 3008, but it handles reasonably well. The car will lean heavily if you take a corner at speed, but body roll is kept in check on versions with Dynamic Ride Control. A hydraulic system is linked to the rear dampers to reduce roll when cornering.
The light steering comes in handy in towns and cities, but it won't inspire confidence on a B-road. Everything has been configured to ease the pain of a long journey, from the supportive seats to the smooth ride quality. There's even very little in the way of wind and road noise on a motorway.
All versions of the Peugeot 3008 are front-wheel drive, but look out for models with the optional Grip Control. This boosts traction on slippery surfaces, although it depends on 16-inch wheels with specialised tyres to work properly.
What should you look out for?
Middling is the best way to describe the Peugeot 3008's performance in our Driver Power surveys. Unsurprisingly, owners rate its practicality as its best attribute.
Common used Peugeot 3008 problems
TPMS issues
The tyre pressure monitoring system can work erratically, because the valves are either faulty or may just need to be calibrated.
Space-saver
Some 3008s come with a space-saver spare wheel, while others are fitted with just a compressor and a can of foam. Check what's there.
LED check
Make sure the LED daytime running lights work; replacing them entails removing the bumper, and failures aren't all that rare.
Parking brake
The electronic parking brake can play up, with error messages appearing on the dashboard even when everything is working properly.
Interior
The dashboard is appealing, but it takes some getting used to because it's very cluttered.
Recalls
Seven recalls isn't bad for a car this old. The first came in October 2009, because the windscreen wipers could fail. In February 2011, 2.0 HDi models were recalled because of potential fuel leaks, then in January 2013 the 3008 was recalled because the rear brake caliper could work loose.
Further campaigns were launched because of faulty spot welds (March 2013), a problematic driver's airbag (April 2014), fuel leaks (December 2015) and oil leaks that could lead to engine damage (March 2016).