Porsche Boxster GTS review
Porsche Boxster GTS range-topper is superb to drive, but is it worth premium over Boxster S?
It takes guts to tamper with an already-perfect recipe, but Porsche has done just that with the Boxster – and improved it. While the tweaks are minor, they make the Porsche Boxster GTS one of the most capable and engaging cars you can buy. You can go faster for less, but you won't want to.
Porsche is attempting to build on the already flawless package that is the Boxster S by subjecting the roadster to the racy GTS treatment. It's now the most powerful Boxster you can buy and we've tested it on UK roads. Based on the Boxster S, Porsche has extracted a further 15bhp and 10Nm of torque from the 3.4-litre flat-six engine, with power now standing at a healthy 326bhp. It also sits lower to the ground by 20mm, while smoked lamp clusters and 20-inch arch-filling alloy wheels have also been added.
If we're honest the incremental power hike isn't immediately obvious, but power delivery is flawlessly linear with maximum grunt at 6,700rpm. There's a throaty snarl from the standard-fit sports exhaust – usually a £1,530 option – and the harder you push it through the rev range the deeper the bellow, with crackling pops and bangs when you lift off the throttle. But the added goodies don't stop there. Porsche also chucks in the PASM adaptive dampers as standard – usually £971. Switch them to Sport or Sport Plus and the Boxster sharpens up around the edges, while the roadster's appetite for corners is heightened.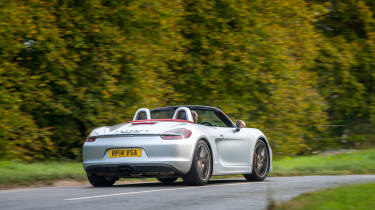 You can crack 0-62mph in 5 seconds flat, which could be considered as rather leisurely for a powerful sports car these days. But the Boxster is about so much more than outright performance. It's incredibly agile and precise on the road, which does mean it can be tricky to detect the active engine mounts at work, which are part of the Sport Chrono pack – a £1,085 option on any other Boxster. The mid-mounted engine already gives the car perfect balance, so it never feels unsettled, allowing you to make the most of all 326bhp. For a car which is so focused and direct, the ride is still fairly forgiving even with the standard 20-inch alloys.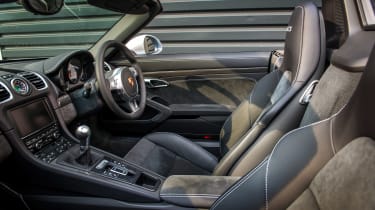 Part of this car's infectious character is in the standard six-speed manual gearbox. Changes are short, crisp and precise, with downshifts accompanied by a blip from the throttle – there isn't a more satisfying manual gearbox available in any sports car. Yet, Porsche's equally capable seven-speed PDK auto is available as a £2,351 option.
Even with all of the additions, the Boxster GTS is just £5,844 more than the standard S, which is less than you'd pay if you were to spec up a Boxster S to GTS levels of kit. Better still, it's still around £30,000 less than an entry-level 911 Cabriolet, which only gets a fraction more power.