Renault Grand Scenic - best people carriers and MPVs
A total redesign has turned the Renault Grand Scenic from a dowdy family bus into a stylish MPV with a crossover vibe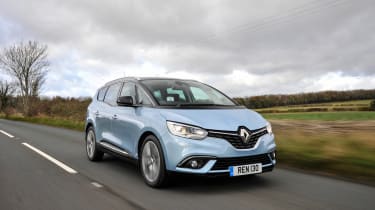 If there was ever a case of an ugly duckling turning into a swan, the new Renault Scenic is it. It's abandoned the traditional MPV template for one more inspired by SUVs and crossovers, but that hasn't compromised the space inside. There are two options on offer – the standard Scenic or the larger, seven-seat Grand Scenic.
The Scenic is based on the new Megane, and it's inherited that car's great interior. It's dominated by a portrait-orientated touchscreen, which controls most of the car's major functions. The whole interior is slick and well built, with comfortable and supportive seats.
There's plenty of room in the middle row for adults, but the rearmost two seats aren't especially spacious. Still, fold them flat and you've got a spacious 596-litre boot.
The Scenic isn't too bad in the corners, but the standard-fit 20-inch wheels contribute to an unsettled ride. There are no options for smaller wheels, either, so the posh alloy wheels could be expensive to repair should you curb them.
Engine choices are the same staples as found across the Renault/Nissan range, and most will plump for the 1.5 or 1.6 diesels. They offer great fuel economy, and make the Scenic and Grand Scenic really cost-effective to run.
Best people carriers and MPVs