Best people carriers and MPVs 2021
Here are the 10 best MPVs and people carriers to buy this year – all loaded with family-friendly features and lots of space
The MPV and people carrier sector might not be the most glamorous, but it's nevertheless vital for those families who need a single car that can carry everyone in comfort, along with and the masses of luggage that family life often entails.
The multi-purpose vehicle, or MPV, can find its roots in the mid-eighties, when the incredibly boxy Renault Espace arrived in Europe, while across the pond the Chrysler/Plymouth Voyager launched in the US. The fundamentals of both were to combine the refined, comfy interior of an estate with the boxy shape of a van – creating a highly spacious, highly versatile vehicle.  
Like many of the cars on sale in the UK, MPVs have grown over the years, meaning they offer even more space than those from the 20th century. It also means there are now sub-sectors within the MPV class, with cars such as the Renault Scenic being labelled as a compact MPV.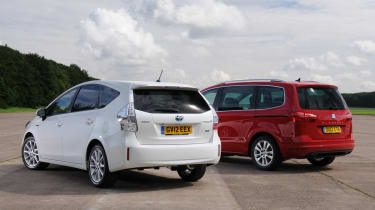 In addition, the market for van-based MPVs has grown beyond recognition. These models have transformed from little more than vans with seats bolted in to become a genuine alternative to a conventional MPV, with just as much luxury and kit, but with arguably even more space for better value.
Today, the MPV sector is under pressure from the crossover and SUV sectors, as these more rugged models deliver nearly as much space and practicality in a more stylish SUV body. However, they still can't compete against the best MPVs for sheer practicality. We've selected 10 of the best MPVs on sale today, all of which deliver the versatility that family buyers need, while also offering reasonable running costs.
We've selected the best models in a variety of classes, ranging from the conventional five and seven-seat models to the best van-based MPVs.
Best people carriers and MPVs
Read more of our best car recommendations...