Renault Kadjar 1.5 dCi - Best diesels
It's a big ask to topple the compact crossover competition, but Renault's achieved it with the stylish Kadjar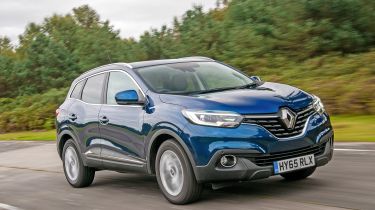 'Better than a Nissan Qashqai' is a bold statement, especially when the Renault Kadjar shares so much of its DNA with that car. Amazingly though, the French company has pulled it off, blending desirability, quality, practicality, and extremely low running costs. The Kadjar is well equipped, too, and Dynamique S Nav trim is the pick of the range.
• Renault Kadjar 1.5 dCi review
The real star is the 1.5-litre dCi diesel, which is free to tax on most models and can achieve an amazing 74.3mpg. It's no speed demon - but it will easily keep up with traffic. The same engine is the biggest seller in the Kadjar's sister car, the Nissan Qashqai - but spec-for-spec the Renault is almost £2,000 cheaper than the Nissan.
The 1.5 dCi is a better bet than the more powerful 1.6-litre unit unless you really need the extra power - for towing, or carrying heavy loads. It's smoother and more refined.
The Kadjar is roomy inside, and interior quality is great - Renault says everything you touch is changed from the Qashqai. It features the R-Link infotainment system, which is smooth and easy to use.
Best diesel cars to buy