Audi TT Ultra - Best diesels
Don't let the idea of a diesel coupe put you off - the Audi TT Ultra gives supermini running costs in a much sleeker, more glamorous form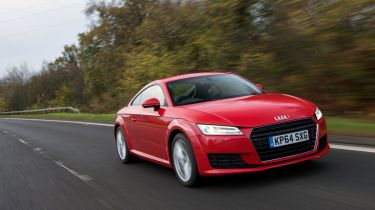 For a lot of people, the idea of a diesel coupe is just a step too far but for many others its proving to be a winning formula. British buyers are responsible for more sales of the Audi TT than any other country in Europe - and most of the ones we buy are diesel-powered. 
The new, third-generation TT is the best model yet and in diesel guise it's a brilliant choice. Our pick of the range is the Ultra model, which uses a 2.0-litre diesel producing 182bhp. It'll go from 0-62mph in just over seven seconds - yet can return 67.3mpg if driven carefully, with CO2 emissions of 110g/km.
The TT in any guise is a great coupe - while it's not the most fun to drive, it's hard to argue with its fine handling and secure stance on the road. It's also got a fantastic interior - the 'Virtual Cockpit' is a work of genius and its full of clever touches like the air-conditioning controls positioned in the centre of the vents. Build quality is also stellar. If you value mpg and fun this is the sports car for you.
Best diesel cars 2016