Best used sports cars
The Porsche 911 is the best used sports car in our Used Car Awards 2020
Best used sports car: Porsche 911
Our pick: Porsche 911 Carrera S (2006/56, 44k miles, £24,750)
A perennial winner in our best used sports car category, it's hard to argue against the Porsche 911.
Once again, we've picked out the 997-generation model in Carrera S spec, which is easily found in good condition on the used market from around £24,000 with even a reasonable mileage. For the money, you get one of the finest sports cars of the 2000s, and a 911 with trademark, naturally aspirated flat-six punch.
The howling 3.8-litre engine in the 997 Carrera S develops 350bhp, meaning 0-62mph in 4.8 seconds plus a top speed of 180mph. But it's the handling and the chassis that really set the 911 out alongside its peers. Opting for a version of the Carrera S with a manual gearbox only enhances the experience.
The steering is spot on – unsurprising since the 997-generation car was the final 911 to use hydraulic, rather than electrical assistance. And it's not just on a twisty road where you'll find the 911 is good company; it really is the sports car that you can use every day.
Inside, the 911 boasts a 2+2 seating layout, with the rears good for small children or extra luggage space. It's one of the most desirable sports cars of its time, with interior quality that still stands out today and, hopefully, many of the used 997 Carrera S examples out there should be evidence of this.
With an enthusiastic ownership base, lots of 911s live well looked-after lives and remain in very good condition, having been cared for by their owners with no expense spared.
Finance options
It's a different story with the 911, because while monthly payments of £1,255 don't sound cheap, this gets you a 911 on hire purchase, so there's no large final payment needed to own the car: come the end of the term, the car's yours. Then you can keep it, trade it in or sell it. With that in mind, this seems like a good-value way to put your own bit of Porsche history on the driveway, without having to stump up a large final payment.
Commended
Audi R8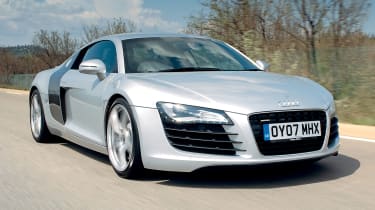 If the predictability of the Porsche doesn't excite you, then you could get yourself into a mid-engined supercar for just £30k, in the form of the first-generation Audi R8. It still looks stunning, and even the 'base' 414bhp 4.2-litre V8 delivers thrills and all-weather ability, thanks to quattro four-wheel drive.
Left-field choice
Lotus Elise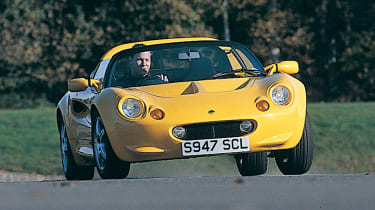 It's hard to call the Lotus Elise a left-field choice when it's a traditional sports car, but with most other fast cars piling on the pounds these days, the flyweight Elise is the perfect antidote. Prices have held up admirably, but we found a clean Series 1 with 118bhp and 44,000 miles for £16,750.