BMW M140i - best hot hatchbacks
Rear-wheel drive and six cylinders mark out this rapid BMW M140i hot hatch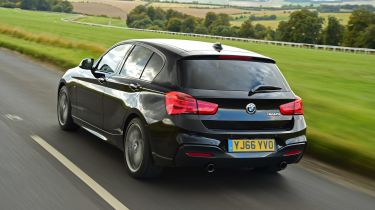 With its rear-wheel-drive layout and turbocharged six-cylinder engine, the brilliant BMW M140i doesn't follow the usual hot hatch template. Yet, like all the go-faster family hatchbacks, the 340bhp BMW is blisteringly quick, boasts agile and engaging handling, and is practical enough for everyday use. And if you factor in its huge performance potential, premium image and upmarket interior, the M140i is actually good value.
Available either as a five-door or three-door, the BMW M140i gets stiffer sports suspension and a more aggressive exterior look to turn it from a normal family hatchback into a proper hot hatchback. Plus, with the twin exhaust pipes and blue brake calipers it really looks the part.
At the heart of the BMW's appeal is the amazing 3.0-litre straight-six petrol engine. It revs up to 7,000rpm, but the highlight is that you get maximum torque from just 1,300rpm. That means in-gear performance is superb, and thanks to the optional eight-speed automatic gearbox it shoots up through the gears quickly as well.
It goes from 0-62mph in just 4.8 seconds, and thanks to the tuned exhaust note, it's a thrilling ride all the way there. The manual gearbox that comes as standard won't disappoint either, as it has a well-weighted shift. The ride is well-judged, as all that performance doesn't come at the expense of comfort while driving normally.
It's just as practical as any other BMW 1 Series, though – it gets a 360-litre boot, which expands to 1,200 litres with the seats folded down in the back. There are plenty of interior storage spots and the car comes with run-flat tyres as standard, too.
Top 10 best hot hatchbacks
8. Audi RS 3
9. BMW M140i