Lambo vs Lambo
Lamborghini Gallardo LP560-4 V Lamborghini Countach 25th Anniversary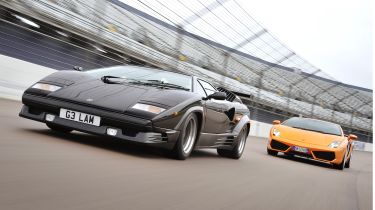 If you were growing up in the late Seventies and early Eighties, you probably woke up to the sight of a Lamborghini Countach every morning. Posters of the Italian legend adorned many a teenager's wall – so it's become one of the world's most recognisable sports cars.
Today, Lamborghini's products are still the stuff of dreams for millions. But can its current best-seller, the Gallardo LP560-4, truly compare to the Countach? While both proudly wear the raging bull badge, the differences are huge.
The Countach – which debuted in 1974 – is an amazing design. Our example, a rare 25th Anniversary model owned by Tom Steenholdt from Northampton, is among the last ever built – and one of only a handful left in the UK. Viewed in the metal, the Countach is easily more dramatic. Everything from the extra-long single windscreen wiper to the Batmobile-style rear wing is on a grand scale. It has massive road presence.
The Gallardo, on the other hand, is an exercise in restraint. While the special Countach has various fins, gills and vents, the LP560-4 is simplicity itself. Under the skin, the two couldn't be more different. Where the Gallardo uses a traditional monocoque chassis to hold its 552bhp V10, the 455bhp Countach is built round an aluminium spaceframe. This helps the latter tip the scales at only 1,490kg – less than a Ford Mondeo.
On the move, the age gap between the two is even more apparent. Despite having 335-section tyres and a steering wheel the size of a button, the Countach doesn't offer power assistance – so it feels like a diesel locomotive at low speeds. The Gallardo, with its perfectly weighted steering and easy-to-use e-gear sequential box, is as happy in traffic as on the track.
Comparing the engineering of this pair is futile, though. Advances in technology and materials have been cruel to the early Lambo. But it holds a card the Gallardo will never trump. The Countach was, and always will be, a supercar legend.
Facts and figures
Gallardo LP560-4 / Countach
Price new: £143,350 / £65,901 Engine:5,204cc V10 / 5,167cc V12 Transmission:Six-speed sequential, four-wheel drive / Five-speed manual, rear-wheel drive Power:552bhp / 448bhp Length/width/height: 4,345/1,900 /1,165mm / 4,140/2,000/1,070mm