Ferrari 488 Pista - Best track day cars
Ferrari makes the 488 more exciting by removing weight and adding power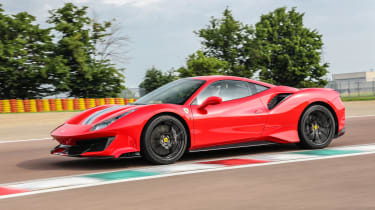 Price: £252,765
No other brand has a mystique around it like Ferrari, and its mid-engined V8-powered models are the ones that have the track in mind. The latest model is the 488 Pista, which is a lighter, faster and more focused version of the 488 GTB.
There's 90kg stripped out of the car, thanks in part to new titanium parts in the engine (50 per cent of the engine is new when compared to the GTB) and a lightweight exhaust system, while these updates push power up to a faintly ridiculous 710bhp. There's 770Nm of torque, too, which is available from low revs to give the Pista a broad torquey power delivery. Despite this, the Pista still redlines at 8,000rpm, and the F1-style twin-clutch gearbox delivers the fastest shifts yet from a Ferrari road car.
The chassis has been honed to perfection, but with switchable adaptive dampers you can make the Pista as focused for the track or as comfortable for the road as you like.
With cars such as the 430 Scuderia and 360 Challenge in its history books, the 488 Pista more than lives up to its branding as the ultimate track-focused raodgoing Ferrari.
Best track day cars 2019