Ford Fiesta ST - best hot hatchbacks
Whereas the old Ford Fiesta ST was criticised for being too harsh, the latest model is a better compromise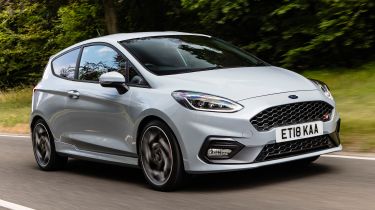 The old version of the Ford Fiesta ST is likely to be remembered as one of the finest fast Fords ever made, but its shortfall - if you can call it that - was the ride, which was too firm for some people's tastes.
With that in mind, pitching the new Fiesta ST was always going to be a challenge, and the brand has decided to soften the hot hatch's suspension this time around in a bid to make it more livable than before.
As a result some of the old car's agility has been lost, but plenty of performance remains. The 1.5-litre turbo engine helps the ST to 0-62mph in 6.5 seconds, with a top speed of 144mph.
The engine is tremendously punchy, and while it noticeably tails of at 5,500rpm, it sounds rather good. Admittedly though the sound is synthesized, which will disappoint hardcore fans almost as much as the selective dampers.
Top 10 best hot hatchbacks
2. Ford Fiesta ST
8. Audi RS 3
9. BMW M140i