Honda Civic i-DTEC - Best diesels
Smooth and refined i-DTEC diesel adds another string to hatchback's bow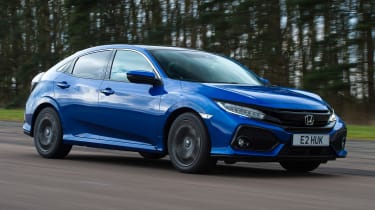 While Honda's most recent foray into Formula One hasn't had the success of past glories, the Japanese carmaker still has a formidable reputation when it comes to road car engines.
It built that success on its screaming VTEC petrol engines first, but its i-DTEC diesels have received critical acclaim for their power, refinement and of course economy. The latest Honda Civic didn't have a diesel to start off with, but that was remedied in 2017 with the arrival of the 1.6 i-DTEC 120PS motor.
It adds decent performance, with a 0-62mph time of 9.8 seconds for the 118bhp unit, while economy is quoted at 62.8mpg. Add an emissions rating of 93g/km, and this is an attractive hatchback for company car buyers.
But the rest of the Civic package is tempting, too. While the infotainment isn't the best, there's good build quality, plenty of kit and a decent drive, while families will relish the amount of space on offer.
Best diesel cars to buy in 2019