Honda Civic Type R - best hot hatchbacks
Boy racer looks won't suit all tastes, but the Honda Civic Type R is sharper than ever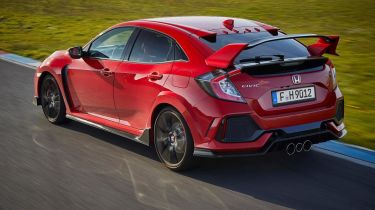 Honda has a history of making VTEC performance engines that make all their real power at the top end. While this approach works well on a racetrack, they've suffered when compared to engines with greater mid-range punch, which often deliver more flexible performance on the road.
But the Honda Civic Type R solves that problem with a 2.0-litre VTEC-equipped four-cylinder engine with a meaty turbocharger strapped to it. The result 316bhp and 400Nm of torque with a load of mid-range performance, enough to see the Civic Type R crack 0-62mph in 5.8 seconds and hit a top speed of 169mph. To put that into perspective, Honda claims the Type R will complete a hot lap of the Nurburgring faster than a Lamborghini Gallardo.
With a lovely satisfying short-throw gearshift, and a +R button that stiffens the dampers by 30 per cent, increases throttle response and makes the steering heavier, the Type R has the handling and feel to take on the best of its front-wheel-drive hot hatch rivals.
The downside is a ride that's always firm, although not crashy or jarring, and that may be enough to put some potential 'daily drivers' off the Type R. Others will love the car for its uncompromising feel and aggressive styling; indeed, its overall performance earned it our 'Hot Hatch of the Year' prize at the 2018 New Car Awards.
Top 10 best hot hatchbacks