Jaguar XK150
Built between: 1957-1961, number sold: 9,385, cool cat rating: 4/5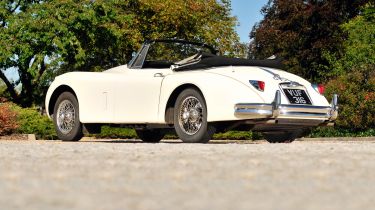 The third and final incarnation of the original XK concept was launched in May 1957. The pretty XK150 was available in fixed-head coupé and drophead convertible bodystyles, with the roadster initially for export only, but all three versions were subtly modified from their predecessors.
Slightly more grown-up and less sporty than the XK120 and 140, the 150 had a wider grille, taller waistline and slab-sided flanks, giving a more muscular appearance. The 3.4-litre engine was offered in three states of tune, with a trio of transmissions: four-speed manuals with or without overdrive, plus the Borg-Warner three-speed automatic.
In 1959, a 220bhp 3.8-litre version was introduced, while the S produced a claimed 265bhp. Although standard cars had disc rims and drum brakes, virtually all sold were 'special equipment' variants with wire wheels and all-round disc brakes. The latter went some way to solving the earlier XKs' reputation for poor stopping power and brake fade. Even so, with the end of the decade approaching, the XK150 was becoming dynamically outclassed.
But with total XK production totalling 30,000 cars – 9,385 of which were XK150s – this sports car had been an undoubted success. The last examples were sold in 1961, overlapping with the new E-Type. The swinging Sixties had arrived and the world was moving on. Fortunately, so was Jaguar.
It's easy to see why the XK is now a highly sought after classic. Our lovely white drophead, built in August 1958, is a fine example of this beautiful Jaguar sports car.
Details
WHY: Muscular final incarnation of the xk line-up proved to be a fitting farewell to the fifties.
For an in-depth buyer's guide on the Jaguar XK150 from Classic and Performance Car click here...