Peugeot 208 Intuitive special edition
The special-edition Peugeot 208 Intuitive debuts new Park Assist system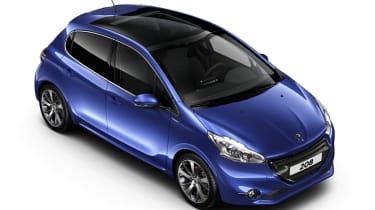 The special edition Peugeot 208 Intuitive has been announced. Based on the current 208 Allure model, the Intuitive becomes the first Peugeot to get Park Assist, which allows the car to parallel park itself automatically.
The Peugeot Park Assist system scans for an appropriate space and, when one is detected, operates the steering automatically, leaving the driver to control the accelerator, brakes, gears and clutch, based on what the 208's visual and audio aids advise.
At present, the Park Assist system does not work with bay parking, unlike some systems offered by rivals like Volkswagen.
In addition to Park Assist, the Peugeot 208 Intuitive also comes with 16-inch alloys, sat-nav and front fog lights as standard. Buyers also get a panoramic roof included, which Peugeot calls the 'Cielo Roof' and also features ambient LED interior lighting.
The Intuitive also gets the same equipment fitted as standard to Allure models, which includes air conditioning, six airbags, cruise control and electric mirrors.
The 208 Intuitive is available with a 1.2 VTi petrol engine or the 1.4 HDi or 1.6 e-HDi diesel engines, which both emit less than 100g/km of CO2. The Intuitive model is available in both three and five-door variants, and goes on sale this month priced from £14,245 – which is £750 more than the standard 208 Allure model on which it's based.
Peugeot has also taken the opportunity to announce that it has so far received more than 20,000 orders for the new 208. The 208 range will grow in 2013, too, with the arrival of the high-spec 208 XY and performance 208 GTi due in May, before the 2008 crossover joins the line-up in September.