Skoda Karoq 1.6 TDI - Best diesels
The Skoda Karoq had big shoes to fill in the shape of the popular Yeti, but its appeal is amplified by sensible diesel engines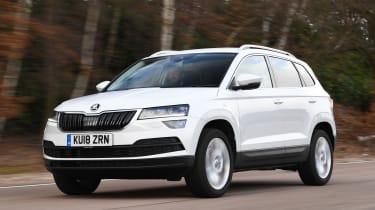 The Skoda Karoq may not be the most thrilling car to drive or have the most interesting interior in its class, but the diesel engines suit the conservative and refined feel of this small SUV.
You can't go wrong whatever diesel engine you choose with the Karoq but the smallest 1.6-litre turbodiesel makes sense thanks to its impressive 64.2mpg return on the WLTP. The bigger 2.0-litre diesels do offer greater performance but can quickly raise the price beyond £30,000.
• Best small SUVs and crossovers to buy 2019
The 1.6 TDI and 1.0-litre petrol both produce 113bhp, but the diesel doesn't feel as strained as the petrol when accelerating, it just develops a bit more engine noise.
Overall, the Skoda Karoq is a great contender in a bustling small SUV segment as it delivers a great mix of comfort and practicality, particularly with the diesel engines.
Best diesel cars to buy in 2019