Best van leasing deals
Van finance deals can get you into a commercial vehicle with relatively little upfront cost - here are our picks of the best deals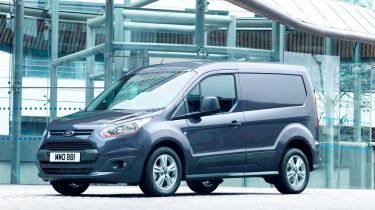 There are plenty of van leasing deals out there but shopping around for the best offers will always pay off. Make sure you know you're getting a good deal by speaking to dealers and checking online for the best prices. To get an idea of the best van leasing deals at the moment, however, simply read on for our handy guide. 
We've taken the quality of the van into account, too - so you know you're getting a good deal on a great van with these packages.
Whether you're looking for a high-capacity panel van, a handy pick-up truck or even just a reliable mid-sized van for your business, read on for our list of the best van leasing deals.
Ford Transit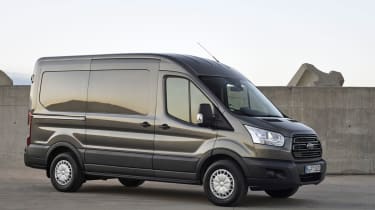 Ford Transit 350 Trend L3 H2 2.2 TDCi 125PS: £459 per month
List price: £31,295Aim to pay: £19,743Deposit: £6,103APR: 4.3 per centNo. of payments: 47 monthlyFinal payment: £5,838Total amount: £33,993
The Ford Transit panel van has been a staple on UK roads ever since it launched in 1965. It's a very versatile van and is offered in a huge range of body styles. 
With the Transit once again topping the UK van sales charts in 2014, Ford dealers aren't under pressure to sell hard. Nonetheless, the company is offering business users £3,300 off and good interest rates over four years. There are plenty of cab configurations available, so it's not difficult to find the perfect Transit for your needs.
Mercedes Sprinter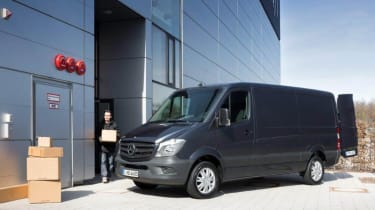 Mercedes Sprinter 213 CDI SWB: £279 per month
List price: £26,460Aim to pay: £23,970Deposit: £6,620APR: VariableNo. of payments: 48 monthlyFinal payment: £6,775Total amount: Variable
The Mercedes Sprinter is one of the best all-round vans on the market, owing to excellent comfort and some durable switchgear sourced from Mercedes' passenger car range. The Sprinter is cheap to run, too, with a range of efficient CDI diesel engines. In a competitive market it's cost-effective, with a £2,300 deposit contribution and low APR deals.
Vauxhall Vivaro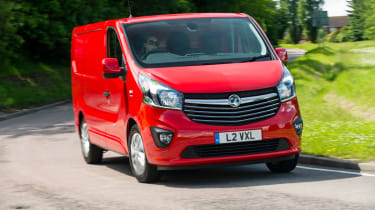 Vauxhall Vivaro 2700 GVW 1.6 CDTI 90PS: £299 per month
List price: £17,995Aim to pay: £13,173Deposit: £3,599APR: 0 per centNo. of payments: 48 monthlyFinal payment: £0Total amount: £17,995
In 2014, Vauxhall finally replaced the 13-year-old Vivaro in order to keep up with Ford's revised Transit range. The British-built van (designed by Renault, in fact) is available in an easy-to-grasp range of lengths and heights – two of each – but every version has a well considered load area with masses of space.
Refinement from the CDTI diesel engines is excellent, with up to 47.9mpg on offer. What's more, Vauxhall offers a four-in-one deal on commercial vans. That means you'll pay zero per cent APR and get four years' servicing, warranty and roadside assistance as part of the finance package.
Renault Master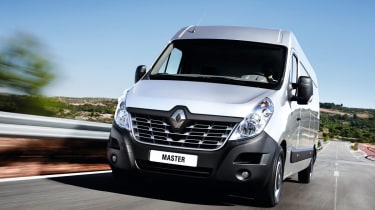 Renault Master MM 33 dCi 110 Business: £250 per month
List price: £29,589Aim to pay: £15,719Deposit: £750APR: N/ANo. of payments: 35 monthlyFinal payment: N/ATotal amount: N/A
Along with its Vauxhall Movano and Nissan NV400 sister models, Renault's biggest van is one of the most useful large commercial vehicles on the market, owing to its wide load space. And because its 2.3-litre dCi diesel engine was designed for big torque, it's a powerful load-lugger. The Master is available on lease only.
Ford Transit Connect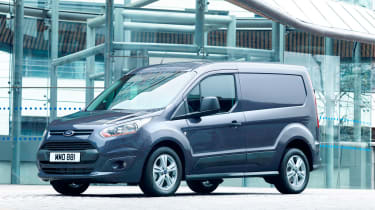 Ford Transit Connect L1 200 Trend 1.6 TDCi (75PS): £229 per month
List price: £16,956Aim to pay: £11,091Deposit: £3,724APR: 4.3 per centNo. of payments: 47 monthlyFinal payment: £3,698Total amount: £18,434
Ford's small van was outsold in 2014 by rivals from Citroen and Renault, but a recent update means that might change in 2015. The new Transit Connect's interior is a durable, pared back mix of Fiesta and Focus, which means it's easy on the eye, and it offers near-car-like refinement. Low list prices and attractive APR rates over four-year terms mean it's affordable, too. The business-only All Inclusive deal includes £1,140 off the list price, plus a five-year warranty, four years' free servicing and roadside assistance.
VW Amarok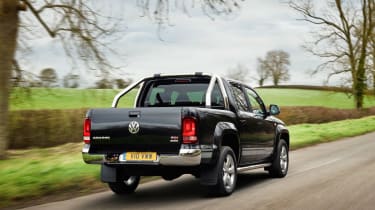 VW Amarok Startline 2.0 TDI 140PS: £354 per month
List price: £25,054Aim to pay: £19,180Deposit: £7,253APR: 7 per centNo. of payments: 35 monthlyFinal payment: £11,304Total amount: £28,032
Volkswagen's Amarok is the most understated pick-up there is, and has won the class crown at our New Car Awards for two years running. Extremely robust, and with a vast load bay, it's also economical for its size, promising up to 37.2mpg. With its car-like spec and cabin, it's a step ahead of commercial vehicle rivals, too.
To compare a range of vans with fixed discounts and finance offers, visit our sister site BuyaCar for the latest van prices and deals.