Best small 4x4s 2020
Need 4x4 capability without big SUV fuel bills? Take a look our top 10 small 4x4s instead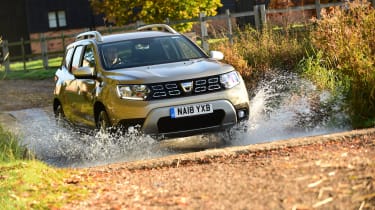 Small 4x4s deliver a great mix of talents for drivers needing practicality, off-road ability and rugged style in a single package. These cars deliver all of these to varying degrees, and here we've listed 10 of the best that cover a range of styles, shapes and sizes.
The small 4x4 class has changed beyond recognition in recent years. Up until recently, the only genuine small 4x4 you could buy was the Suzuki Jimny. That car is still in production largely unchanged after more than 20 years on sale, but unless you need its near-unstoppable off-road ability, you'll be compromising on everything else, from economy and practicality to everyday driving comfort.
Instead, if you're after a small 4x4, there are plenty of alternatives out there. If it's off-road ability you need, then the Fiat Panda 4x4 remains a star turn. It's nearly as capable as the Jimny, but offers more comfort and modern driving manners and technology, too.
Elsewhere, the small crossover class has its own share of 4x4 models that might not be as capable as the Suzuki or Fiat off-road, but they give enough grip to feel more reassuring than their front-wheel-drive counterparts. Your options in the class include the Suzuki Ignis, Nissan Juke, Mazda CX-3, Jeep Renegade, Fiat 500X and updated Ford EcoSport, and what they lack in off-road ability, they more than make up for with added practicality.
On the whole, you'll be looking at top-spec variants of these small crossovers if you want 4x4 grip, although some cars don't even offer it - if you're looking at a Peugeot 2008, Renault Captur or the new Citroen C3 Aircross, then you'll have to make do with all-season tyres and a switchable traction control system.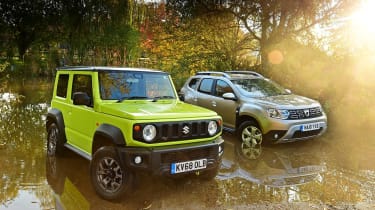 The most practical small 4x4s are slightly larger again, and it's crossovers that once again take pride of place here. The
Nissan Qashqai
set the template for the class, with its raised ride height within hatchback dimensions, and rivals from
Peugeot
,
Renault
,
SEAT
,
Hyundai
,
Kia
and more have pushed the boundaries of the class even further. Again if you want AWD, it's the top-spec versions of these that are the ones to go for, as the entry-level cars offer more economical front-wheel drive as standard.
Elsewhere, the Dacia Duster sits in a class of its own, by offering rugged durability, crossover-sized space and outstanding value for money all rolled into one, while the Subaru XV has a permanent 4WD system that gives it more off-road ability than most owners are likely to ever need, although it's not quite as spacious as its rivals.
Do you agree with our top 10? Let us know below...
Best small 4x4s to buy now
Read more of our best car recommendations...