Fastest laps of the Auto Express test track
We list the fastest laps around the Auto Express test track at Blyton Park, as seen in our track battle videos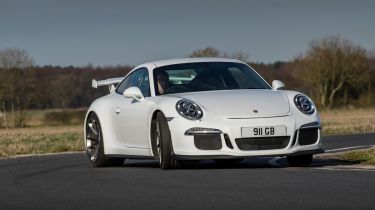 One of the most important parts of testing the latest performance cars is seeing how they stack up against their rivals. That's why for the sportiest new models we test here at Auto Express, we take them out onto a test track and set a lap time.
Below you can find the full list of lap times for some of the top sports cars on sale today, including the Porsche 911 GT3, Aston Martin V12 Vantage S, Alfa Romeo 4C, Jaguar F-Type and Lotus Evora S, plus hot hatchbacks like the Volkswagen Golf GTI and BMW M135i. We've even tested the Ford Transit and Mercedes Sprinter panel vans!
The track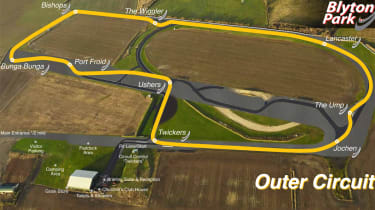 Our test track is Blyton Park, near Gainsborough in Lincolnshire. It's a former RAF airfield that has been converted into a 1.5-mile tarmac circuit. We use the Outer Circuit that runs around the edge of the airfield, to set our fast lap times.
It's a challenging circuit with a variety of corners, including Lancaster, a long left-hand bend, The Wiggler, a chicane following a straightaway section, Twickers, the final turn before the start/finish line, and the superbly-named Bunga-Bunga left-hander.
How we set the lap times
Following a series of practice laps, we use a GPS tracking device to record several flying laps, and the best time around Blyton Park's Outer Circuit is recorded. The lap times are kept consistent by using the same driver and spending the same amount of time on track.
Although some of our track battle videos (click on each model below to see the video it stars in) were filmed in wet or damp conditions, our recorded lap times are often set off-camera and are always done on a dry track - that's so we can make sure all the times are as accurate as possible.
Auto Express fastest laps
| | | | | | |
| --- | --- | --- | --- | --- | --- |
| Car | Time | Power | Weight | Drivetrain | Price (new) |
| McLaren 650S Spider | 1.06.4 | 641bhp | 1,468kg | RWD | £215,250 |
| Porsche 911 GT3 | 1.06.6 | 469bhp | 1,505kg | RWD | £100,540 |
| Porsche 911 Turbo S | 1.08.9 | 552bhp | 1,605kg | AWD | £140,852 |
| Nissan GT-R | 1.09.3 | 542bhp | 1,740kg | AWD | £76,610 |
| BMW M4 | 1.09.9 | 431bhp | 1,572kg | RWD | £56,650 |
| Porsche Cayman GTS | 1.10.5 | 335bhp | 1,345kg | RWD | £55,397 |
| Aston Martin V12 Vantage S | 1.10.9 | 565bhp | 1,665kg | RWD | £138,000 |
| Porsche 911 C4 S Cabriolet | 1.11.0 | 400bhp | 1,515kg | AWD | £96,619 |
| Porsche Cayman S PDK | 1.11.7 | 325bhp | 1,350kg | RWD | £50,705 |
| Porsche 911 C4 S | 1.11.8 | 400bhp | 1,445kg | AWD | £88,304 |
| Audi R8 V8 | 1.12.0 | 424bhp | 1,560kg | AWD | £93,710 |
| Audi RS5 | 1.12.2 | 444bhp | 1,715kg | AWD | £59,870 |
| Jaguar F-Type V6 S Cabriolet | 1.12.2 | 375bhp | 1,597kg | RWD | £67,520 |
| Lotus Evora S | 1.12.4 | 345bhp | 1,437kg | RWD | £60,550 |
| Ducati 1199 Panigale R * | 1.12.5 | 195bhp | 189kg | 1WD | £26,995 |
| Porsche Cayman 2.7 | 1.12.7 | 271bhp  | 1,310kg | RWD | £39,694 |
| Alfa Romeo 4C | 1.12.7 | 270bhp | 995kg | RWD | £45,000 |
| Jagaur XFR-S | 1.12.7 | 542bhp | 1,987kg | RWD | £79,995 |
| Porsche Cayenne Turbo S | 1.13.0 | 542bhp | 2,215kg | AWD | £107,784 |
| Nissan 370Z NISMO | 1.13.0 | 339bhp | 1,535kg | RWD | £36,995 |
| Peugeot RCZ-R | 1.13.4 | 266bhp | 1,355kg | FWD | £31,995 |
| 2003 M3 CSL | 1.13.5 | 355bhp | 1,385kg | RWD | £58,000 |
| BMW M235i | 1.13.5 | 326bhp | 1,530kg | RWD | £34,260 |
| Porsche Boxster | 1.13.6 | 265bhp |  1,385kg |  RWD |  £38,810 |
| Mercedes A45 AMG | 1.13.8 | 355bhp | 1,555kg | AWD | £38,195 |
| Porsche Cayenne Turbo | 1.13.8 | 493bhp | 2,170kg | AWD | £89,324 |
| SEAT Leon Cupra 280 | 1.13.9 | 276bhp | 1,415kg | FWD | £27,245 |
| RenaultSport Megane Cup | 1.14.0 | 265bhp | 1,394kg | FWD | £26,930 |
| Jaguar XFR | 1.14.1 | 503bhp | 1,875kg | RWD | £65,415 |
| BMW M135i | 1.14.3 | 316bhp | 1,515kg | RWD | £31,375 |
| Audi RS6 * | 1.14.7 | 552bhp | 1,935kg | AWD | £76,985 |
| Volkswagen Golf R | 1.14.8 | 296bhp | 1,361kg | AWD | £29,900 |
| VW Golf GTI Performance Pack | 1.15.0 | 227bhp | 1,395kg | FWD | £27,105 |
| Porsche Macan Turbo | 1.15.3 | 394bhp | 2,000kg | AWD |  £59,300 |
| VW Golf GTI | 1.15.6 | 217bhp | 1,395kg | FWD | £26,125 |
| Subaru WRX Sti 320R | 1.16.0 | 316bhp | 1,505kg | AWD | £28,274 |
| Mat Watson's Mazda MX-5 (tuned) | 1.16.1 | 196bhp | 1,065kg | RWD | £18,775 |
| Mat Watson's Mazda MX-5 | 1.22.9 | 113bhp | 1,065kg | RWD | £18,775 |
| Ford Transit | 1.35.5 | 153bhp | 2,419kg | RWD | £34,000 |
| Mercedes Sprinter | 1.38.5 | 127bhp | n/a | RWD | £33,000 |
*From a standing start