Sunbeam Alpine, Dr No (1962)
BOND FACT: The Alpine in Dr No was borrowed from a Jamaican resident and was one of only a few sports cars on the island.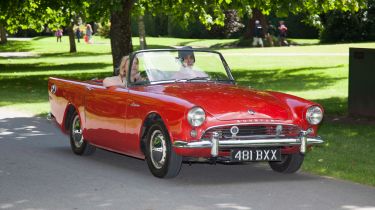 The first Bond film had a budget of less than £1m, so there was no gadget- laden Q Branch special for Sean Connery. In fact, when he arrives in Jamaica on the trail of Dr No, 007 has to settle for a rented Sunbeam Alpine.
Powered by a wheezy 80bhp 1.6-litre engine and featuring the same underpinnings as the humble Hillman Husky estate, the two-seater has barely enough puff to outrun the thirties LaSalle hearse driven by Dr No's mysterious henchmen, the Three Blind Mice.
Fortunately, the Alpine's nimble handling and low height save the day, allowing Bond to slip under a large crane blocking his path. The LaSalle and its occupants meet an explosive end after plunging off a cliff.
While manufacturers provided free cars in exchange for screen time in later films, Dr No's producers had to borrow the Alpine from a local. Still, in Ian Fleming's novel, 007 drove an even less sexy Hillman Minx saloon.
• Aston Martin DB5• Lotus Esprit• Aston Martin DBS• Ford Mustang Mach 1• BMW Z8• Aston Martin Vanquish• Citroen 2CV• What the villains drove