Best Compact Family Car: BMW 1 Series
It was always going to take something special to beat the Volkswagen Golf, and the new BMW 1 Series is exactly that.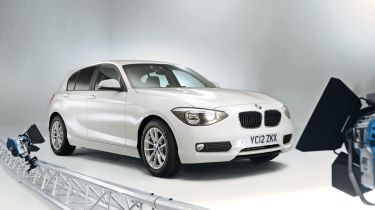 Why it won...
It was always going to take something special to beat the Volkswagen Golf, and the new BMW 1 Series is exactly that. When the all-new model arrived last year, our expectations were sky-high – but it didn't let us down.
BMW's proven EfficientDynamics hardware promises fuel-sipping thirst across the range and with CO2 emissions starting as low as 99g/km, the 1 Series is a prestige model that won't break the bank. Best of all, it retains the fun rear-wheel-drive handling that we've come to expect from all BMWs, so you don't feel like you're making dynamic compromises at every turn.
The standalone ED model grabs all the headlines, and is sure to be a hit with company car drivers everywhere, as its sub-100g/km emissions are accompanied by attractive specification that includes a 6.5-inch infotainment screen, Bluetooth connectivity and a USB port. It's also hard to pick holes in a family car that can sprint from 0-60mph in 10.5 seconds, yet has lower CO2 emissions than most city cars.
Generous kit and tax-efficient engines are all very well, but the 1 Series also puts the boot into its rivals where it matters most – at the kerbside – because the latest model is better looking than before, and bigger than ever, so family buyers needn't be put off.
The rest of the range is just as appealing as the ED model, and the potent 125d is a stellar hot hatch thanks to its 215bhp diesel and tuned suspension. The ED is our pick, though, and generous SE trim shows it in its best light.
Our choice: 116d ED
What a combination! A desirable premium badge, comprehensive standard kit list and CO2 emissions of only 99g/km make the cleanest 1 Series in the range the best. It drives well, too.
Commended
Kia Cee'd
The days when Kia only won plaudits for its value for money or aftersales packages are long gone. Its latest models stand comparison before you even look at their price tags, and the new Cee'd is a prime example. It's stylish, spacious, good to drive and has a high-quality interior. And, of course, there's the seven-year warranty.
Volkswagen Golf
The Golf has been our favourite compact family hatch for the last three years and it still ranks as one of the best cars around. Match trim gets you all of the most important kit as standard, while the 1.6 TDI BlueMotion Technology engine mixes fuel-sipping thirst with decent performance.