With the SEAT Leon FR you can have plenty of fun behind the wheel and still keep your running costs low
The SEAT Leon FR offers a tempting blend of performance and economy in 2.0 TDI guise. But how will it fair on a two-week test drive?
Choosing a new car that can handle anything you throw at it can be a tricky job. Especially when you're trying to balance the priorities of practicality and performance – while still keeping fuel bills as low as possible.
The SEAT Leon is one of our favourite cars, and it's particularly appealing in FR specification. That's because it offers plenty of sporty appeal with the option of a powerful 2.0-litre diesel engine, which can cover up to 67.3mpg. Impressive stuff.
Self-confessed petrolhead Edward Cope, from Brewood, Staffordshire got behind the wheel of a SEAT Leon FR. Two weeks later, we caught up with him to see how he rated it alongside his own supermini and 'premium' convertible. Plus we wanted to offer him a few useful hints to help him keep his fuel consumption as low as possible.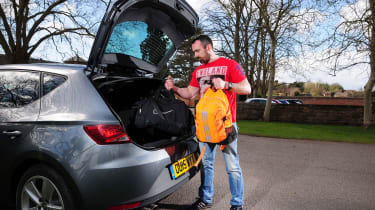 With a 50-mile daily commute to the family-owned brewery where he works, economy was a key requirement for Ed during his time with the car. The smooth running 2.0-litre diesel engine with 181bhp and a slick six-speed automatic gearbox got things off to the perfect start. Not only did the effortless cruising help with Ed's mpg and performance, but the quiet cabin meant he arrived at work relaxed. 
The Drive Select system in the SEAT Leon FR offers four different settings, but for Ed the key function was the Eco mode. This softens the throttle response, tells the gearbox to change up gears sooner and even limits the air con, all to help save fuel and, in the long run, save Ed money.
This wasn't the only thing that Ed liked about the SEAT Leon FR, however. A quick flick to Sport mode and the whole driving experience changes, which Ed seemed pretty keen on when hitting the quieter country roads near his home. "I've found it to be a great car and very economical. The automatic gearbox is fantastic with a really smooth change and really quick shifts," Ed told us.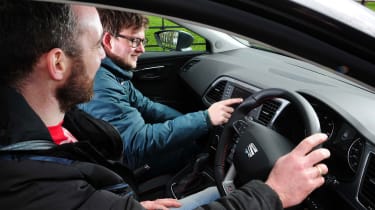 Other smart technology on the SEAT Leon has also impressed Ed. "The technology is brilliant; the car's fuel-saving stop start never fails to work, and my phone connects with no problem," he said. It not only allows him to take calls on the move but also to stream his music through the car's infotainment system.
The SEAT Leon also helped Ed in another key area. He helps to rehome rescue dogs, and the car's 380-litre boot provides a major size upgrade on the supermini that he currently owns.
Overall it's been a pleasing fortnight for Ed in the SEAT Leon. From the more hi-tech kit and fuel saving aids, to the general practical touches and sharp looks, it seems that SEAT has another fan.