Diesel Hot Hatches
It's the first-ever diesel to wear a Renaultsport badge... but can it tackle Toyota's Auris D-4D T180?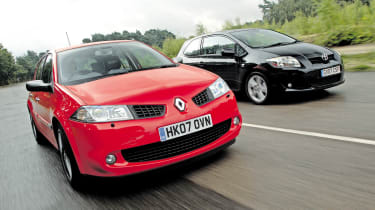 Ham and eggs. Fish and chocolate. Some combinations just don't go together – and, not that long ago, diesel and hot hatch were another example. But engine technology has advanced dramatically over the past few years.
If today's oil-burners are good enough for Alfa Romeo to fit in its Spider sports car, BMW to use in its 3-Series Coupé and Audi to win the Le Mans 24 Hours with, then surely they should be capable of powering hot hatches? Renault certainly thinks so. Its latest Renaultsport Mégane looks the part, with the £19,450 car crouched on lowered suspension and wearing graphite grey alloys. Yet lift the bonnet and you will find the company's 175bhp 2.0-litre dCi turbodiesel engine.
Toyota's £18,795 Auris 2.2 D-4D T180 isn't quite such an overt hot hatch as the Renault, but it's aimed at the same sporting end of the market.
Producing 175bhp, the British-built Auris matches the more expensive Mégane on power. So, how do the two square up once other factors have been taken into account?
What we're looking for here is a keen driver's car that won't break the bank. Smart looks, exciting handling and swift performance are must-haves. But so too are practicality, good fuel economy and low real-world running costs.
Verdict
The Auris T180 won't break the bank. It's cheaper to buy, more tax efficient and economical than the Mégane. And it's quick, thanks to Toyota's strong turbodiesel.
But this car is simply no fun. It's dull to look at and, apart from the instruments and the steering wheel, the interior is compromised, too. It's the lacklustre handling that's the biggest disappointment, however. There can be no doubt about it coming second here.
If you want a true sporting hatchback, it's definitely worth paying the extra £655 for the Mégane. The biggest concern, if you're buying privately, is the French car's poor predicted residuals. But overall running costs are near identical.
The Renault package is just so much more fun. It looks like a proper hot hatch from the outside, and while it no longer feels as fresh inside as it once did, the cabin is still better than the Toyota's. The two are quite close when it comes to performance, but the Mégane's sharper handling is much more involving than the Auris's.
Although it's still not quite as exciting as a traditional petrol performance car, the Renaultsport dCi is a true hot hatch all the same.