Peugeot 205 GTI: Buying guide and review (1984-1994)
Everything you need to know before buying Peugeot's legendary hot hatch.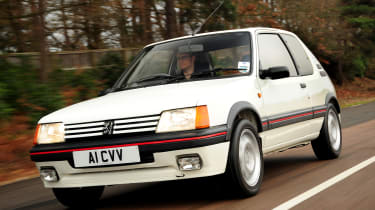 The last five years have been an interesting time for the Peugeot 205 GTI, and it's genuinely difficult to recall a fairly ordinary car going through such a rapid market shift quite so quickly. While the headline figures achieved at auction for exceptional examples have grown to upwards of £30,000 – with £38k the current UK record – it is the more average (and numerous) cars that have really felt the effect. Not only have prices all risen significantly, but there is now far more of an appetite for original and unmolested examples. 
In terms of 1980s hot hatchbacks, the 205 has always been seen as the best. It might not have been the quickest, or even the best handling, but there was something fundamentally right about this small Peugeot as a complete package. Even after production stopped in 1993, its popularity never really subsided. It went through a phase of being a cheap track toy for many, and a lot were modified beyond all recognition, but a good number survived to this point. 
Which is a good thing, because today's buyer desires originality, as well as great condition. Most are willing to pay strong money for the best they can find too. Not only has this pushed up the prices of those genuinely special cars, but has driven many to rebuild and restore more tired examples.  
The £500 ruins, bodged or abandoned track-car projects, and the terminally tired, seem to have vanished. The Peugeot 205 GTI has broken out of bangerdom for good, and even the saddest case is now a 'great base for an appreciating classic'.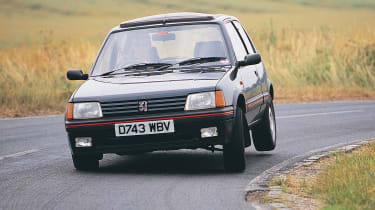 Peugeot 205 GTI 1.9
| | |
| --- | --- |
| Engine  | 1905cc, four-cylinder |
| Power | 130bhp @ 6000rpm |
| Torque | 119lb ft @ 4750rpm |
| Transmission | Five-speed manual |
| 0-62mph | 7.8sec |
| Top speed | 123mph |
| Fuel consumption  | 28.1mpg |
| Price when new | £9295 |
| | |
| --- | --- |
| Wheelbase            | 2420mm  |
| Length | 3705mm |
| Width | 1572mm |
| Height | 1372mm |
| Weight | 875 kg |
• Contrary to popular opinion, the 205 is not a badly made car. True, some of the interior plastics feel a little flimsy (especially on early cars), the body panels are paper-thin and cars can often look tired, but it's generally well engineered. A well-maintained 205 will rarely cause headaches. Here is what you need to look out for.
• Take a look at the interior and, and the first thing that you'll probably notice is some wear to the side bolsters on the driver's seat. This is by far the most common interior foible of any GTI. Seats can be repaired, more easily on the 1.9s with part-leather interiors. If the fabric has worn, new covers are now being reproduced.
• The interior plastics on later cars is generally hard wearing and still looks good today if in good condition, however the earliest phase 1 models wear less well. If all the parts are in good condition, then look after it as secondhand replacement parts are tricky to find.
• The all-aluminium XU engines are strong, but high-mileage or thrashed examples might show blue smoke on start-up and on overrun. In most cases that's just worn valve stem seals. 
• Finding one with a slightly tired gearbox is not uncommon, but the main thing to watch for is worn-out synchromesh on third and fourth gears. If the change feels sloppy, it will likely need new linkages. New or uprated linkages are not expensive and are actually easy to fit.
• Any GTI should have had – or will need – a full engine/transmission restoration by now. Most 205s will have been driven hard, so budget around £1000 to renew all the basics.
• If the rear end of the car is creaking, it probably needs a rear suspension rebuild. There's no science to knowing when it will need a rebuild. If a 205 is driven for long periods with damaged rear axle bearings, the beam will seize, which puts strain on the bodyshell. The entire beam will probably need to be replaced with a reconditioned unit if this is the case. 
• Pay up to £350 to renew the bearings, and £800 for a replacement and fully rebuilt beam. Genuine or high quality component are more expensive, however will give trouble-free motoring for many years, unlike using cheaper rebuild kits which have been known to cause problems.
• You will struggle to find any 205 that hasn't had some new paintwork. The original finish was never brilliant and many have faded, with lacquer peel commonplace. Many cars will have had a full respray, so ensure this was done to a high standard, with photographic evidence of any rust removal. 
• It's usually easy to spot a bad crash repair. Pay special attention to the front chassis legs and inner wings; rust in strange places often points to accident damage. 
• Corrosion was much less of a problem than in many contemporary rivals, but the rot is really beginning to set in today. Check the boot floor and suspension mounts, front inner wings, and the seam between the bulkhead and floorpan – which is easier said than done. The original factory underseal can hide a multitude of sins too, so be careful. 
• Another common area for corrosion is behind the fuel tank, as well as the rigid brake lines in the same area. It's amazing the state that you find these in; usually they're the original pipes. They won't be picked up on an MoT. 
February 1983: Peugeot 205 range launched in France. 
April 1984: 105bhp 205 GTI 1.6 goes on sale in the UK. 
February 1985: Minor spec changes to the GTI, including softer suspension after complaints of an overly hard ride on early cars. 
April 1986: Power increased to 115bhp with an uprated cylinder head and camshaft. 
June 1986: Convertible 1.6 CTI launched; styled and partly built by Pininfarina. 
December 1986: 130bhp 1.9 GTI launched, featuring the 1905cc XU9 engine with the same Bosch L-Jetronic fuel injection as the 1.6. Fitted with all-round disc brakes, half-leather interior and electric windows as standard. 
September 1987: Phase 1.5 introduced, featuring a more modern dashboard, three-spoke steering wheel, higher-quality plastics and different seat patterns. All Peugeots including the 205 are now fully galvanised. 
August 1989: Another minor update, with new BE3 gearbox, slightly larger two-piece exhaust, and power steering made available as an option. 
September 1990: GTI receives a minor cosmetic facelift, with clear indicator lenses and smoked rear lamp units, black dashboard and trim, as well as the option of Bendix ABS. CTI receives an electric hood. 
September 1992: Production of the 1.6 ends.
October 1992: 1.9 gets the 122bhp catalyst engine.
April 1994: Production of the 1.9 GTI and CTI ceases.
Owners clubs, forums and websites
• www.clubpeugeotuk.org – Peugeot Club UK
• www.pscuk.net – Peugeot Sport Club UK
• www.205gtidrivers.com – Peugeot 205 GTI forum
• www.peugeotcentral.co.uk – Peugeot forum for all models
Whether you're after a usable everyday classic, or something to cherish for years to come, there is a 205 GTI out there for you. Top condition cars are starting to fetch serious money and these headline figures have also helped to push values of more ordinary cars upwards. Be patient and do your research to find the the right car for the right money. 
Given regular servicing and proper mechanical maintenance, these cars are extremely reliable and a joy to drive. There are various different clubs, a healthy number of specialists and reasonable parts availability, so with interest in 1980s classics surging, now really is a great time to buy and own a 205 GTI. 
Gone are the days of finding a usable car for £500 though. Tatty projects start from around £1000 now, with usable examples likely to cost at least £2500. £6500-£10,000 would get you into one of the best 1.9s out there. The 1.6-litre cars were valued slightly less in the past, however condition, history and mileage are the biggest decider of values today.