Fiat Panda 4x4- best small 4x4s
A city car with four-wheel drive, the Fiat Panda 4x4 is a niche option but a good one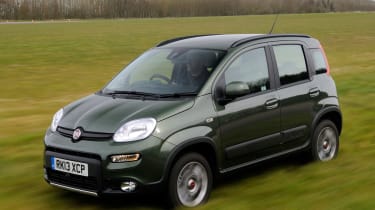 The Fiat Panda isn't the first vehicle you think of when you're planning to go off-road, despite the little Italian supermini having a four-wheel drive variant since 1983.
The chunky styling of the current Panda 4x4 isn't all show like many off-road orientated small cars such as the Ford Fiesta Active X. The Panda 4x4, like the name suggests, gets a four-wheel drive system which might not be the most sophisticated, but is more than enough to provide grip in some treacherous terrain. The scuff plate is a decent addition to keep the engine protected, too.
An 84bhp 0.9-litre petrol Twinair is the only engine available - coupled with a six-speed manual. Bearing in mind the Panda is a small car, the TwinAir turbo returns a fairly decent 49.6mpg (according to Fiat).
The current Panda was released way back in 2011 and the interior is showing its age. On the upside, the large, chunky buttons should be easy to navigate while you're teetering on the edge of a cliff or on a sand dune.
Best small 4x4s to buy now