Used Ford Focus (Mk3, 2011-2018) review
One of the best all-rounders in the competitive family hatchback sector, the Ford Focus is also brilliant to drive
Verdict
Small family hatches are the biggest-selling cars across Europe, so the Focus is up against some very stiff competition. And while the more expensive VW Golf is our favourite new car in this sector, it doesn't offer the value that the Focus does on the used market, and it's also not as much fun to drive. Indeed, as an all-rounder the Ford is pretty hard to beat, which is why it always performed well in our used car awards. Its fabulous mix of quality, comfort and handling – not to mention some very keen used prices – make the Focus a terrific used buy.
Which one should I buy?
Best Ford Focus for low costs: 1.0 EcoBoost 100 5dr
Best Ford Focus for fuel economy: 1.5 EcoBlue 120 Active Edition 5dr
Best Ford Focus for performance: 2.3 EcoBoost ST 5dr
There are no engines to avoid as such, but the regular 1.6 offers little in the way of zest; the turbos (petrol and diesel) are all much more punchy. This includes the 1.0T, which starts at £3,500 – and there are plenty to choose from – but the 1.5T and 1.6T EcoBoost also offer a blend of economy, performance and driving enjoyment.
Trim levels are confusing. They start with Studio, then progress through Edge, Zetec, Zetec Navigator, Zetec S, Titanium/Navigator, then finish with Titanium X Navigator. All cars get ESP, air-con, electric front windows and a space-saver spare wheel. Zetecs have alloys, plus a heated screen and mirrors; Titanium adds auto lights/wipers, dual-zone climate control and a multimedia system.
What are the alternatives?
Our current favourite used small family hatchback is the SEAT Leon Mk3, with its smart, roomy interior, excellent practicality, sharp looks and generous equipment levels. It's also affordable and great to drive.
The Mazda 3 is stylish and well built, dynamically excellent and generously equipped as standard. Other key alternatives include the Toyota Auris and Honda Civic, which major on reliability but tend to be priced higher than the Ford.
The Hyundai i30 is one of the best all-rounders out there. You could also take a look at its close relative, the Kia Cee'd. The Volkswagen Golf is the small family hatchback with everything, but you'll have to dig deeper than if you were to buy an equivalent Focus.
Vauxhall Astra vs SEAT Leon & Ford Focus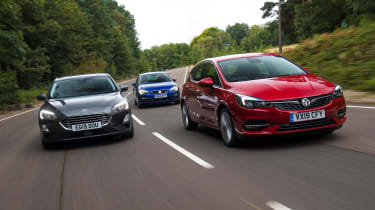 In 2015, we pitched the new Vauxhall Astra against two of its fiercest rivals in the family hatchback sector. Although the Focus remained top dog for driving enthusiasts, the Astra pipped the Leon to take class honours. Read the full test…
Ford Focus vs Nissan Pulsar & SEAT Leon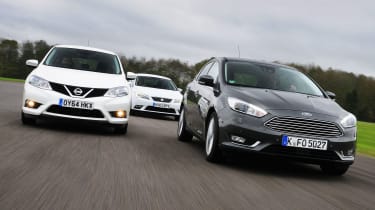 A year earlier, the Focus finished one place better but couldn't stop the Leon from grabbing the top spot. The Pulsar's passenger space won praise, but the SEAT's great-value price was hard to ignore. Read the full test…
How much will a used Ford Focus cost?
It's one of Britain's most popular new cars, so you won't be short of choice when searching for a used Ford Focus. Whether you're after a cheap runaround or an economical diesel for a long commute, you can afford to be picky, so make sure you shop around.
Prices
According to our experts, the Ford Focus isn't as good at holding its value as rivals such as the SEAT Leon and Volkswagen Golf. However, it's better than the Vauxhall Astra, which has residuals that are notoriously poor. While depreciation is a negative aspect of buying a new car, it's great for used car buyers, because the original owner swallows the lion's share of the drop in value.
Partnership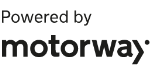 Need to sell your car?
Find your best offer from over 5,000+ dealers. It's that easy.
It's worth focusing your attention on post-facelift cars (after 2014) if you want the best styling, improved quality and revamped interior. It was such a wholesale improvement, it makes sense to buy a lower-spec facelifted car than a high-spec pre-facelift car from 2014. The newer version is easy to spot – simply look for the revised grille.
You'll pay at least £6,000 for a post-facelift Focus, but add £1,000 to the budget and you'll be able to secure a 2015/2016 example from our sister site BuyaCar. Prices rise to around £25,000 for a 2018 Focus ST with the fabulous 2.3-litre EcoBoost engine.
You can check out the latest used prices for the Ford Focus on our sister site Buyacar or value a specific model using our valuation tool.
Fuel economy and emissions
If you don't count the sporty Ford Focus ST and RS models, every car in the line-up emits less than 140g/km of CO2, which is pretty good if you consider how large and wide-ranging the engine line-up is.
Despite the car having more safety kit and generally being more refined, Ford managed to make this Focus lighter than the two previous versions. As a result it's cheaper to run generally, but the lower-powered EcoBoost petrol engines and TDCi diesel stand out.
For example, the 99bhp version of the 1.0-litre three-cylinder turbo petrol returns 105g/km CO2 in standard form, though strangely, for a little extra on the list price (£350), Ford offered a 99g/km version. That'll save you £20 per year in VED, while the mpg difference between the two is 65.7mpg versus 61.4mpg.
In most cases the Estate version of the Focus is a few mpg less economical than the five-door hatchback (there's no three-door option for this generation), owing to the extra weight and slightly less slippery shape.
The Focus Electric is the most economical version on paper, with zero tailpipe emissions resulting in a zero VED bill and lower running costs. Unfortunately, it's compromised on space and drivability, while disappointing sales mean that it's a very rare sight in the UK.
The 118bhp 1.5-litre TDCi diesel is also a sub-100g/km car offering zero VED and generally very low costs, owing to 74.3mpg combined cycle economy – and even the most powerful diesel, the 182bhp version in the ST, emits just 110g/km CO2 and returns 74.3mpg.
The Zetec S models are where things start looking really sporty, and the lower powered of those (the 123bhp EcoBoost petrol and 118bhp TDCi diesel) won't break the bank. The former returns 60.1mpg combined (our favourite all-round engine), and the latter an even better 74.3mpg.
The 1.5-litre Ecoboost with 148bhp fares notably worse, however, returning 51.4mpg and 127g/km CO2, while the ST hot hatch can only manage 41.5mpg combined and 159g/km CO2 – worthy of a £180 annual charge.
It's fair to say that costs won't be such a big deal for RS buyers, and it's a good job, too: 36.7mpg and 175g/km aren't too bad given the performance, but you'll be looking at mid-20s economy in reality.
It's also worth noting that the Powershift automatic, despite being of the twin-clutch type that's supposed to have minimal effect on economy, substantially increases the car's thirst. The 70.6mpg 2.0-litre diesel returns 70.6mpg with a manual gearbox, for example, but 64.2mpg with Powershift. 
Running costs
All Mk3s must be serviced every 12 months or 12,500 miles. The 1.6 Ti-VCT FFV needs new oil every 6,250 miles, and PowerShift boxes require a change of fluid and microfilter every three years or third service, at £250.
There are minor, intermediate and major services; pricing varies depending on engine. Expect to pay £150-£170, £205-£225 or £260-£290 for each of these. Cars over four years old get a Motorcraft service, with a simple minor or major schedule priced at £125 or £195.
All engines have a timing belt that has to be replaced every eight to 10 years or 100,000-150,500 miles. You will pay £340, or £450 with a new water pump, too.
The Ford Focus's insurance ratings start at group 11 for entry-level cars, while the RS has insurance costs more akin to the premium Audi RS 3, a group-40 model.
Our favourite all-rounder, the 123bhp 1.0-litre Ecoboost, which in most trims (including the sportier ST-Line) is in insurance group 14 as both a hatch and estate. It's not just because the car is safe, reliable and secure, but because Ford's dealer network is expansive (more than 750 in the UK) and the parts supply is abundant – so in the event of an accident, the repair costs are very reasonable. In addition, mid-level Ford Focus hatchbacks are not, frankly, the most alluring to potential thieves – ST and RS models aside, that is.
What do owners think?
The Ford Focus remains a mainstay in the UK top sellers list – as it has for over a decade. It has never performed particularly well in our Driver Power customer satisfaction surveys, with 51st place in 2017 a rare high point. In the most recent survey in 2021, the Focus had slipped to 72nd with a score of 81.01 per cent. In fairness to the Ford, it finished a place higher than the Volkswagen Golf.
Reliability
Ford finished a disappointing 25th out of 29 brands in the Driver Power 2021 manufacturer's survey, with a score of 84.42 per cent. Only Fiat, Dacia, Citroen and MG finished lower. Not great, but at least parts and maintenance are cheap.
How practical is it?
The Focus isn't the most practical compact hatchback on the market, with Ford failing to match the interior space or boot capacity offered by most rivals.
The boot is much smaller than the Volkswagen Golf's, whether the seats are up or down. At least storage is plentiful in the cabin, relatively speaking, with decent door bins, a deep armrest cubby and a big glove box.
Back-seat space is relatively restricted, with less legroom than rivals like the SEAT Leon and Nissan Pulsar, although the rear doors open wide. One neat feature is the edge protectors that pop out of the doors as you open them, to prevent car park dings.
While the Focus is tight in the back, there's plenty of space up front. It's easy to get comfortable at the wheel because there's loads of adjustment in the driving position – both the seat and steering wheel have plenty of movement. You sit quite low in the Focus, enhancing its sporty characteristics and assisting driving enjoyment.
No matter whether you have the flatter standard chairs of lower-level versions (Studio) or the sportier, more figure-hugging seats of Zetec and Titanium cars, they're always comfortable and supportive.
Add to that the aforementioned ride comfort of the Focus, which is excellent at all speeds, and you have a car that's just as satisfying whether doing a short blast on a back road or a 300-mile cross-country journey.
Plus, if you really need more practicality, you can always opt for the Estate variant. This has a 476-litre boot that expands to 1,502 litres. That might still appear small compared to the Skoda Octavia, for example, but the tailgate opening is huge and the big oblong-shaped space it offers is very useful, while never negatively affecting the Focus driving experience. 
Dimensions, cabin and boot space
The Focus is a classic family hatchback in size terms, sticking to the conventions of the genre it basically invented, but it does seem to have better visibility than most owing to thin roof pillars. This is not a cumbersome car to manoeuvre.
There's no three-door version of the Mk3 Ford – both the first- and second-generation Focus models came with three or five doors – but Ford gave the third-generation car a coupe-like stance, which diminishes practicality. That said, it needn't be the case – the Focus is longer, wider and taller than the five-door SEAT Leon, which is arguably the prettier, more rakish car, yet has more cabin space and a significantly bigger boot than the Ford.
While never feeling cramped as such, there isn't as much rear knee room or foot room in the Focus as you'd like – certainly less than you'd find in the Golf, Leon or Octavia – most other family hatchbacks, in fact. Yet it still performs perfectly well as a family hatchback, accommodating regular sized adults just fine, and with enough space for rear-facing child seats in the back using the standard-fit Isofix mountings.
The Focus Estate has a higher roofline than the hatchback so there's a notable amount of extra rear headroom and some additional large cubbyholes for storage – the Estate, all in all, does feel like the significantly more useful model, as you'd expect.
One of the smaller boots in the class, measuring in at 316 litres, the Focus's boot is actually closer in capacity to a Ford Fiesta's than it is a Volkswagen Golf or SEAT Leon's. A Peugeot 308's boot positively dwarfs that of the Focus, with 470 litres.
In pure volume terms this is really quite poor, especially, again, given the Focus has one of the bigger footprints in the segment. And to further drive the point home, the Skoda Octavia has 590 litres, extending to 1,580 litres.
Go for the four-wheel-drive Focus RS or RS Mountune and things are worse still. The already tight capacity is reduced further to just 260 litres, to make way for the four-wheel drive system and rear differential. It's a shame really, because the whole point of a hot hatch is to offer speed and handling without compromise.
But the fact is that most buyers won't find the standard Focus's boot capacity necessarily inadequate. It's actually quite well shaped, offering a square shape that's relatively free from suspension obtrusions. And when the seats are folded down (they split 60/40) the loading area is flat, offering 1,215 litres of space.
Equipment and technology
The biggest changes in the 2014 facelift were reserved for the cabin, where the all-new dashboard is more minimalistic and classier than before – addressing criticism of the second-generation car (and the first version of the third-generation) about its fussy, button-heavy design. It was baffling to use, thanks to myriad odd-shaped buttons, especially for the standard audio head unit.
That changed, but the Focus still doesn't have the class or intuitive sophistication of a SEAT Leon or Volkswagen Golf.
Still, material quality is good, with soft-touch plastics and improved climate-control switches that are larger and clearer than they were. The blue-lit instruments look classy, while a larger trip computer display between the dials is easier to read.
A small central colour display screen is standard. It's on the small side really, and not too clear, but the controls are easy to operate. Still, it's much better to find a car with the optional Ford SYNC navigation system, which increases the size of the screen and adds DAB radio.
Bluetooth is standard on all models, as is air-conditioning, but you'll have to upgrade to a Zetec for alloy wheels, heated door mirrors and nicer interior trim. Titanium trim is where things start to look positively luxurious though, with dual-zone climate control, parking sensors, adaptive cruise control and velour seats.
ST-Line and Titanium X models are top-of-the-range (before you come to the proper ST and RS versions, that is), with the former focusing on sportier options like bigger wheels and a bodykit, and the latter more on luxury kit like xenon headlamps, heated electric seats and leather upholstery.
The Focus also features Ford's MyKey technology, which allows the main driver to restrict another user (or users) of the car. It's designed for parents to rein in their new-driver offspring; MyKey will disable the stereo completely until the seatbelts are fastened, warn about a low fuel level much earlier, and prevent the traction control system from being disabled, for example.
The Focus doesn't have the best track record in terms of the intuitiveness of its stereos, especially from the second-generation Focus onwards, but the post-facelift third-generation car improved things markedly. Whereas the standard stereo (and the upgraded Sony unit) used to consist of many tiny buttons, the latest system is much easier to fathom. It's linked to a colour display screen and has logical shortcut buttons.
Six speakers are standard, so the stereo's sound quality is decent, which is good because Bluetooth music streaming is standard too, so even in base model cars you can hook up your iPhone or Android handset easily. Ford's upgraded navigation system – standard in Titanium models and a fairly low-cost option below that – is an eight-inch touchscreen setup and one of the more modern ones currently on the market. It features voice operation, so in theory you need never take your hands off the wheel to operate it. 
Safety
Ford's safety technology helped the Focus earn a five-star Euro NCAP crash test rating. You get six airbags and ESP as standard, while the Zetec model includes handy extras such as heated mirrors and a Quickclear heated windscreen. On top of that, you can add Ford's £550 Driver Assistance Pack, which brings pre-collision city braking, a lane-keeping aid, traffic-sign recognition, auto lights and wipers and a driver-alertness monitor.
MyKey is a very interesting safety feature and certainly brings peace of mind for parents looking to loan out their car to new drivers in the household – though its restrictive nature means it's perhaps not as popular with said drivers.
The fact that Ford won four Advanced Safety Awards from Euro NCAP – the only car to win that many – tells you how seriously Ford takes safety for its family hatchback and estate. Driver Alert, Forward Alert, Active City Stop and Lane Keeping Aid all won awards.
What's it like to drive?
The Focus was clearly designed with comfort and efficiency in mind, but Ford's talented engineers didn't neglect handling. It's certainly a more exciting steer than a Kia Cee'd and it offers up more agile handling than a Volkswagen Golf. Turn-in is sharp, while the great chassis serves up strong grip. In many ways it's like a big Fiesta, and there's no higher compliment for a front-wheel drive car than that.
Engines and performance
The pre-facelift version of the Focus (2010–2014) came with a 1.6-litre TDCi diesel engine, but Ford replaced this for a 1.5-litre unit with the facelift, available with 94bhp or 118bhp outputs.
Don't be fooled by the capacity decrease – the slightly smaller engine is better. Smoother and more efficient than the outgoing 1.6-litre engine, what both versions lack in outright power, they make up for with punchy low-end torque (250Nm at 1,500rpm and 270Nm at 1,750rpm respectively) so they feel strong.
There's a 2.0-litre TDCi diesel unit too, in two states of tune. The lower powered boasts 148bhp and, more importantly, 370Nm torque from just 2,000rpm. That trumps the figure of the 148bhp 2.0-litre TDI Volkswagen Golf and gives a so-equipped Focus a 0-62mph time of 8.8 seconds (9.0 in the Estate).
The more powerful 2.0 TDCi has 182bhp and is only available in the ST diesel model, introduced with the 2014 facelift. It has a strong 400Nm of torque (10Nm more than a Porsche 911 Carrera), and so feels a whole lot quicker than its 8.1-second 0-62mph time.
Both of these bigger diesels offer true low-rev flexibility, meaning the lazier driver can comfortably pull away from low-speed roundabouts in third gear, although as per most four-cylinder diesel engines it's not the last word in quiet smoothness, especially before it's warmed through.
The Focus has always had a reputation for serving up more driver thrills than the average hatchback, and the 1.0-litre EcoBoost engine, especially in 123bhp guise, suits its sporty nature. So, too, does the new 1.5-litre EcoBoost engine, available with either 148bhp or 180bhp.
Although the three-cylinder thrum from this 1.0-litre model won't be to all tastes, the six-speed manual version features a dual-mass flywheel that eliminates vibrations well, and it's certainly a change from a typically bland four-cylinder engine note. We'd avoid the Powershift auto paired with this engine, though, because it makes it feel lethargic and hesitant in its power delivery.
The lower-powered 99bhp EcoBoost engine is very popular with buyers and available with all trim levels bar sportier-looking ST-Line. On paper it doesn't look much cop (0-62mph takes 12.5 seconds with a 115mph top speed), but in reality it's torquier and punchier than the four-cylinder petrol engines in the Focus range. It's therefore more flexible at lower speeds.
Those four-cylinder petrol engines are the weakest of the Focus bunch, and really only worthy of consideration if you're looking to keep down your buying costs. Available with 84bhp or 103bhp, they need to be worked hard to make the most of their performance, and their tone has less character than the three-cylinder engines'. They're not as smooth either.
By contrast, the Focus's pair of high performance turbo petrol engines, namely the 247bhp 2.0-litre four-cylinder turbo in the ST and the 2.3-litre unit with 345bhp in the RS, are among the hot hatch greats. If that's not enough, you can add a Mountune package for £899 – upping power to 370bhp.
On the road
The Focus is settled at motorway speeds, with the suspension doing a good job of soaking up bumps. The car is very surface-sensitive though – rougher motorways produce a lot more road noise in the car than newly resurfaced ones, whereas rivals mask surface changes better, especially more comfort-oriented ones like the Citroen C4.
But it's on twisty roads that the Focus really excels. Its ability to communicate accurately what's going on between the tyres and the road sets it apart from the average family hatchback. Rivals such as the Mazda 3 and SEAT Leon have caught up, however, representing a high dynamic benchmark.
It's a trick of balance that Ford has become a master at pulling off, and it makes the Focus one of the best all-rounders in any segment of the car market. And because they're so similar in feel, that applies to the Estate as well.
That said, today's Ford Focus is not quite as focused as past models, although it's worth noting that the facelifted versions (2014 onwards) had their suspension and steering tweaked in response to criticism to that effect.
Those wanting a sportier version of the Ford Focus can choose the ST, one of the best hot hatchbacks available on the UK market. Its powerful engine helps the car reach 0-62mph in just 6.5 seconds, and although the ride quality is generally firmer – more prone to bounce on rougher surfaces – it's still comfortable.
The ST-Line model replaced the old Zetec S, and added all the style of the full-fat ST, but with a range of economical engines. Lowered suspension means it is on the firm side, though.
The RS, meanwhile, is a serious piece of high-performance kit; it's still a family hatchback, of course, but that characteristic is a distant second to the business of going quickly. It breaks the 62mph barrier in well under five seconds and comes with a very sophisticated suspension setup in order to stop that 345bhp engine from overwhelming the front wheels.
A Mountune version ups this to a frankly astonishing 370bhp, without affecting the manufacturer warranty. If that's not enough tweaking of the impressive Focus RS formula, Ford also offered an option pack, which mostly consists of visual tweaks, plus a Quaife limited-slip differential, designed to deliver even more traction when exiting a corner. Both are great to drive, and both were awarded five stars when we drove them in the UK.
Regardless of specification the Focus has one of the most pleasant manual gearboxes in the business, with a lovely light action and accuracy through the gate – both the five-speed gearbox of lower-powered petrol engines and the six-speeder of the diesels have this characteristic.
Ford's automatic transmission option in the Focus is called Powershift and is a twin-clutch type, the same as Volkswagen's DSG. It's not quite as smooth or quick to change gear as the VW unit, but it's still a sophisticated, non-obtrusive gearbox that doesn't degrade the Focus's fundamentally excellent driving experience.
What should you look out for?
There are no significant issues to be aware of, though, rather a varied collection of the usual minor mechanical and electrical niggles. Overall quality is surprisingly high for a mainstream hatchback, particularly following the comprehensive facelift in 2014.
But personal service is not something Ford customers feel they get generally, according to respondents of our Driver Power survey, with some complaining of a conveyor belt approach to customer service. Perhaps not surprising, in fairness to Ford, given its sheer volume of sales.  
Common used Ford Focus problems
Coolant
Certain engines can use coolant – and potentially a lot of it. This is usually because of a leaking thermostat housing, which is easily replaced.
Space-saver
Some cars have a space-saver spare wheel, while others come with a compressor with sealant. You can buy a full-sized spare though.
Wheels
Larger, 18-inch wheels aren't unusual and they look great. They don't seem to harm the ride, but do increase the road noise noticeably.
Stop/start
Some Focuses have stop/start, which some owners find works erratically or not at all. This is usually down to the car's battery being on its way out.
Interior
A superb driving position and well-stocked dash make long-distance drives a breeze – for those in the front. Space in the back could be better; headroom is fine, but legroom is tight. Boot space isn't great, either. There are 316 litres with the rear seats up, or 1,101 litres when they're folded.
Recalls
The Focus Mk2 was the subject of a worrying 17 recalls, generally because of potentially major problems, which started within months of the model's introduction. These included fuel leaks, failed fans, brake servo issues and hub-retaining bolts working their way loose, plus the risk of fire due to short circuits or leaky power-steering.
The Mk3 was the subject of fewer recalls, but all pre-facelift models were affected by the issue of the engine overheating due to insufficient coolant. In extreme cases, the cylinder head could crack, resulting in a fire. Some post-facelift cars were affected by a recall for a broken clutch pressure plate.