Ford Transit Courier van review
As the smallest member of the Transit family, does the Ford Transit Courier live up to its famous name?
There's now a Ford Transit variant available for any occasion. Where there was once just the plain old Transit, the name has been extended into three additional and separate market sectors. They include the compact Transit Custom, the mid-sized Transit Connect, and the standard Transit at the top of the pile. And this one - the Transit Courier – which is the smallest panel van to bear the famous Transit name.
Ford's new Transit model strategy was rolled out impressively quickly in around two years, and the baby of the family was the last to arrive.
You'll probably know it as a small van, but in the official terminology it's a B-platform integrated style van – in other words a purpose built vehicle based on the same underpinnings as Ford's B-segment cars like the B-Max and Fiesta. The same platform also therefore carries the smaller but related Ford Fiesta van.
The Courier may come from a famous family, but it still has a battle on its hands to be noticed. It competes in a sector crowded with rivals such as the Mercedes Citan Compact, Nissan NV200 and the joint venture trio of the Peugeot Bipper, Citroen Nemo and Fiat Fiorino. As it's smaller than the Transit Connect, the Courier is targeted principally at urban users who need a van that's nippy in traffic and easy to park.
More reviews for Transit Courier Van
The range is refreshingly simple with the Transit Courier offered in a single bodystyle with either standard, Trend or 5-seater Kombi trim. The Kombi is a mix of van and small MPV with a row of three seats in the rear that can be folded to maximise the luggage space behind. All models get ESC stability control, remote central locking, a DAB radio with Bluetooth and a USB device dock but the Trend adds a host of extras including electric windows and mirrors, a sliding side door and automatic headlights among other things.
Three turbocharged engines are offered: a 1.5 TDCi diesel (74bhp), a 1.6-litre TDCi diesel (94bhp) and a 1.0-litre, three-cylinder EcoBoost petrol. All are available with stop-start and depending on your choice van payloads range between 645 and 660kg. The petrol unit is only expected to account for 5% of sales in the UK.  
Based on Ford passenger car underpinnings, the Transit Courier drives extremely well for a small van. Economy from the impressive engine range is very strong with up to 76.3mpg possible on the combined cycle. Ford has also done fine work in creating a roomy cabin and a user-friendly load bay in the limited space available.   
MPG, CO2 and Running Costs
Low running costs should be the cornerstone of any commercial vehicle and that's twice as important at the smaller end of the LCV segment. The Transit Courier doesn't disappoint on this score, with 76.3mpg and 97g/km in its most economical guise.
To get that sub-100g/km CO2 emissions rating, buyers need to specify the 1.6-litre TDCi diesel with stop-start and a 62mph fixed speed limiter. It means the van becomes even more of a specialist at short-trip urban work but even without the speed cap and stop-start that engine can manage 70.6mpg with 105g/km emissions.
Go for the 1.5-litre TDCi and combined cycle returns are 68.9mpg or 72.4mpg with stop-start while even the entry-level 1.0-litre EcoBoost petrol can manage 54.3mpg and 119g/km with stop-start fitted. Ford fits its EasyFuel system to all cars to prevent operators unwittingly putting petrol in their diesel van and visa-versa.
All Transit Couriers fall into insurance groups 2E or 3E and service intervals have been stretched to 20,000 miles. There's a 3-year/100,000-mile warranty on all models and residual values are up with the best in the class. It all goes towards making the Courier an extremely cost-effective van to run.
Load Space and Practicality
Measuring 4,175mm long and just over 2,060mm wide, including its unfurled door mirrors, the Transit Courier naturally gives away something in load space compared to larger vans. Ford has made the best of what space there is, though, with a 2.3 cubic metre load volume and a maximum payload of 660kg that's up with the best in the class.
The load bay really is surprisingly generous with a 1,620mm load length at floor level and 1,012mm between the wheelarches so that a Europallet will fit. All models get a moulded bulkhead as standard but there's the option of adding a steel bulkhead with a window for better rear visibility. Alternatively, the optional folding mesh bulkhead swings open to increase the load length to 2,590mm. It comes with a less comfortable folding passenger seat but many operators will happily specify it for the extra versatility.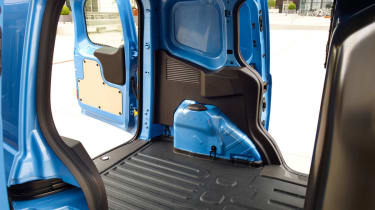 The Courier's asymmetrically-split side hinged rear doors open to 158 degrees and the optional sliding side doors provide impressively wide access points to the rear. With six tie-down points and optional LED lighting, the load bay has been well thought out in this van. 
All Transit Courier models get stability control and ABS with brake assist and brakeforce distribution. There's a driver's airbag but no passenger airbag as standard. Also on the standard kit list are big van features like Hill Launch Assist, Trailer Sway Control and Roll-over Mitigation.  
The Trend models add useful features like auto headlamps and wipers but Ford's excellent Quickclear heated windscreen is a cost option. 
Ford claims to have subjected the Transit Courier to a rigorous testing programme that's 35% more severe than that applied to its passenger cars. Over one million miles were covered in various conditions and on the full range of road surfaces. Ford even took the time out to slam the Transit Courier's doors 250,000 times. A multi-piece rear bumper and high-mounted lights help to keep repair costs down should the worst happen.
Security is handled by a standard remote central locking system that allows you to select which doors it opens. There are two optional alarm systems - a basic perimeter alarm, or a more advance Thatcham Category One system that will impress your insurance company more.
The two Duratorq TDCi common-rail diesel engines form the mainstay of the Transit Courier range. The 1.5-litre unit offers 74bhp and 190Nm of torque between 1,700 and 2,000rpm while the 1.6-litre engine has 94bhp and 215Nm through a slightly wider rev range of 1,750 to 2,500rpm.
We tested the Dagenham-built 1.6-litre TDCi unit and it proved more than capable of shifting a Transit Courier with 150kg of payload on board with some vigour. Refinement is generally good, with the noise levels in the cab only becoming intrusive as the engine homes in on the top of its rev range, and the units flexibility made the Courier feel light on its feet around town.
The other engine option is the 1.0-litre EcoBoost, a powerplant we've been thoroughly impressed with in Ford's passenger cars. It's the cheapest of the Courier's three engines at around £400 under the 1.5 TDCi and, with 99bhp plus a charismatic off-beat three-cylinder thrum, it's the most enjoyable to drive. 
That counts for little in the LCV space, however, and unless you're sticking solely to urban centres, the fuel economy penalty of petrol power will be too big to overcome. On our test the performance and superior refinement of the EcoBoost unit impressed but the diesel model felt slightly more planted on the road, possibly as a result of the extra weight in the nose.
Ford has managed to transpose the supple ride and handling fluency we've come to expect from its passenger cars onto the Transit Courier and the result is an excellent driver's van. It corners with impressive stability, steers precisely and rides smoothly.  The 5-speed manual gearbox is also great to use but Ford isn't offering an automatic option.
Even the entry-level Transit Couriers get a height and reach adjustable steering wheel that helps create a comfortable driving position for drivers of most sizes. There's also good visibility out of the front and, surprisingly, the rear too – if you specify the glazed bulkhead and rear doors.
Much of the switchgear in the cab is lifted from Ford passenger cars and although the instrument cluster looks sharp and the quality is strong by van standards, the cluster of buttons at the centre of the dash does look cluttered. The console that governs the ventilation system lower down on the centre console is also a little fiddly to use thanks to its small buttons.
Space for the driver and front passenger are far better than you'd expect in a van of this size and It's the same story for storage space. The deep storage bin between the front seats is backed-up by a large door pockets and a decent glovebox. Trend models get an overhead storage shelf and more space under the passenger seat while all models without built-in sat-nav get a clever mobile device dock that will hold and charge your phone, tablet or portable sat-nav system.