Land Rover Discovery tailgate-gate: design boss blames dealers
Gerry McGovern says the fuss over the new Land Rover Discovery's styling is partly due to the kind of number plates being used.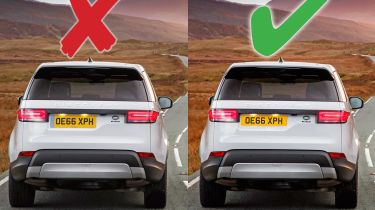 The controversy over the latest Land Rover Discovery's rear-end look is being compounded by dealers fitting the wrong sort of number plates, the firm's design boss has revealed. 
The latest Discovery's offset rear plate is one of the car's most obvious nods to its predecessors - but also the element of the car's appearance that has most split opinion.
Land Rover's Design Director and Chief Creative Officer Gerry McGovern has acknowledged the controversy but he told Auto Express that any solution is likely to involve working with dealers on the specification of number plates used, instead of a major rethink on the overall look. "It doesn't bother me," McGovern said. "You know what part of the problem is with that offset plate? It depends on what number plate you put on it. And it was designed for a slimmer number plate.
• The most expensive UK car number plates
"What we're seeing is, and we're going to rectify it, is a lot of our dealers are putting deeper number plates on the cars. And that compounds the problem. You get a load of yellow with the blue stripe at the side and it doesn't quite fit."
McGovern added, "Overall, I like the design of the back of the Discovery for its asymmetry, because it's tipping its hat to the Discoveries of the past. I think what's happened is that there's a whole variety of number plates. We've got a study going on at the moment and I don't want to change that asymmetry, but we do need to do something about the number plates."
Land Rover has sold just over 22,000 examples of the Discovery so far this year, and UK demand is sufficiently strong for a typical wait of between three and four months per order.
What's your view on tailgate-gate and the Discovery's rear end? Join the debate in the comments...