Mercedes E-Class Cabriolet - best convertibles
The Mercedes E-Class Cabriolet is every inch a baby S-Class, offering quality and comfort, albeit at a premium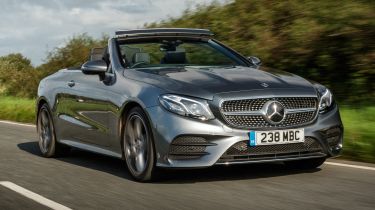 Step up in size again from the Audi A3 Cabriolet, and you'll come across the Mercedes E-Class Cabriolet. Undeniably stylish both inside and out, the plush cabin - inspired by the S-Class - contains high quality materials and an advanced infotainment system.
In many ways the E-Class feels like a baby S-Class, offering genuine four-seat comfort thanks to the fact that it's wider and taller than the previous model. A surprisingly big boot is another mark in the E-Class Cabriolet's favour, although with a starting price in the region of £45,000, it'll be a little pricey for some buyers.
The fact that there are sharper cabriolets to drive must be factored into the equation, but admittedly, few are as nice to be in or offer as much sophistication on the road, either with the roof up or down. If you're more likely to be cruising along a boulevard than a winding B-road, this is the drop-top for you.
Best convertible cars 2018