Nissan Micra 1.5 dCi - most economical cars
The new Micra is a leap ahead of the old one in terms of quality, and with a new diesel engine option it's impressively efficient too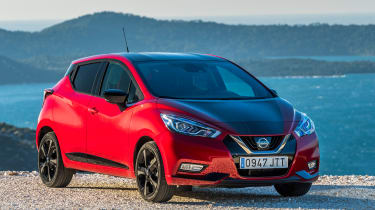 The old Nissan Micra was ugly, frumpy, and poor to drive, so the brand-new model is a world away in that regard. The new car is sharply styled inside and out and rides on an all-new platform promising much improved ride and handling. Could the new Micra shake off the image of the old car?
One new addition to the range is a diesel engine. The old car only offered three-cylinder petrol units, but the 1.5 dCi in the new Micra is a proven unit which promises amazing economy. A claimed figure of 88.3mpg is amongst the best in the supermini class, and with similarly low CO2 figures, it should prove very inexpensive to run.
Performance from the 89bhp engine isn't exactly on pace with a hot hatchback, but it should be happy to cruise on the motorway, as well as having enough pep to keep up with traffic around town.
Inside, the Micra benefits from a much improved design over the previous model. Gone are the swathes of scratchy plastic, replaced by a good-quality dash with a classy design. There's also plenty of space in the new Micra - making it a practical and very efficient supermini indeed.
The UK's most economical cars