Rolls-Royce Phantom - best luxury cars
The new Rolls-Royce Phantom is an incredibly luxurious car, and it's also rapid thanks to its 6.75-litre V12 petrol engine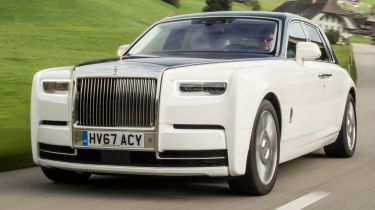 To improve upon the previous car, the Rolls-Royce Phantom was redeveloped from the ground up, leaving no ostentatious stone unturned.
There's no doubt that the Phantom is an incredible car. It's powered by a 6.75-litre V12 petrol engine, which produces 563bhp and 900Nm of torque. This allows you to plant your right foot and accelerate from a standstill to 62mph in 5.3 seconds and on to a limited top speed of 155mph.
The price is suitably large to go with the Rolls' grand dimensions and 21- or 22-inch wheels, as the least you can expect to pay is £300,000. So much as look at the options list and you will find that figure heading north beyond the £400,000 mark.
On the road it is obviously, unbelievably quiet and comfortable, but should you find yourself in the driver's seat, you have a mixture of features to make sure you enjoy your time there. Firstly, there is four-wheel steering to aid in low-speed manoeuvres and high-speed stability, then there is the air suspension and active roll management to prevent unwanted lurching of the body through the corners.
Top 10 best luxury cars