SEAT Leon Cupra gets new name and loses power
SEAT's Cupra 300 becomes Cupra 290 as new WLTP emissions and economy test regime sees power cut by 10bhp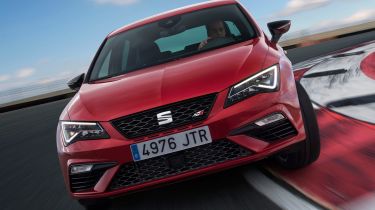 The SEAT Leon Cupra hot hatch has had its power reduced by 10bhp, as the new WLTP emissions and economy test regime has forced SEAT to dial down its total output.
SEAT's decision to name the Cupra after the metric horsepower (PS) produced by its 2.0-litre turbocharged engine means the Leon Cupra 300 will now be known as the Leon Cupra 290. The car's official power figure drops from 296bhp to 286bhp as a result of the downgrade.
• SEAT Leon ST Cupra 300 estate review
SEAT originally boosted the Leon Cupra's power to 296bhp when the facelifted car arrived last year. This made it the most powerful car the company had ever made, but the changes mean it now reverts to its pre-facelift output of 286bhp. The change affects the five-door front-wheel drive Leon Cupra, but the Cupra ST estate retains its 300 title and output due to its four-wheel drive powertrain. 
A SEAT spokesperson confirmed the name and power changes, telling Auto Express, "In the context of new homologations, there are adaptions for the exhaust-gas-treatment and for the power output. From now on, all front wheel drive 2.0 TSI Cupra will feature a 290PS engine, while the 4-wheel drive will feature a 300PS engine." The company is yet to confirm whether the Leon Cupra's performance or fuel economy are affected, while clarity is being sought with regard to the 306bhp Leon Cupra R.
The new WLTP (Worldwide harmonised Light vehicles Test Procedure) regime replaced the NEDC (New European Driving Cycle) test in September 2017, with all new models introduced to the market from then assessed against the new criteria.
BMW recently confirmed every model in its range had been retested under WLTP criteria, resulting in higher CO2 measurements and lower on-paper fuel economy figures.
Cars tested under WLTP are assessed over longer distances than they were under NEDC,  while speeds are higher and cars are tested with optional equipment fitted. A new real-world testing element (RDE, or Real Driving Emissions) also features in the WLTP cycle, and sees cars take to the roads fitted with portable emissions measurement systems (PEMS).
Looking for a hot hatch to buy? Check out the best hot hatches on sale...