Best used city cars
The Skoda Citigo is the best used city car in our Used Car Awards 2020
Best used car: Skoda Citigo
Our pick: Skoda Citigo 1.0 MPI 60 SE (2014/64, 74k miles, £3,690)
Yet again the Citigo is our Used City Car of the Year. It's tough to make money from small cars, so manufacturers have tended to shy away from launching new models, leaving the Skoda clear to remain our top choice.
It offers superb practicality, with five-door models available, it's affordable (our chosen example comes in at just over £3,500), and used Citigos are still holding their money well, so at this price point you shouldn't lose too much if you sell it on.
It's also good fun to drive because the Citigo is light, compact and nimble; add in some clever touches, such as the removable touchscreen infotainment system, and it even offers a few big-car features.
The packaging is superb, especially in five-door form, where access to the rear seats is much easier, yet you don't lose out on boot space. A load area of 251 litres is reasonable for such a small car.
While the latest Citigo-e iV is purely electric, not so long ago the car was available with a 1.0-litre petrol engine with 59bhp or 74bhp. No matter which version you go for, there should be enough pace to keep up with city traffic, but even on the motorway the lower-powered Skoda still doesn't feel out of its comfort zone.
Used values now start around the £2,500 mark, but we'd recommend spending a little more; you could pick up a five-door 59bhp SE version for just over £3,500, which is still incredibly affordable.
The same is true when it comes to running costs, because pre-2017 cars only cost £20 to tax, while every model is capable of mid-40s mpg.
All things combined, you get a level of quality, refinement, maturity and excellent practicality that has kept the Citigo king of the city car class.
Finance options
The Citigo is cheap to buy and even more affordable on PCP finance through BuyaCar.co.uk, with monthly payments of £104 following a £450 deposit. That means this one should cost less than £4,200 overall if you finance it for three years and go on to hand it back (provided you keep it in good condition and stick to the mileage limit). Meanwhile, if you want to own it at the end, the optional final payment isn't too steep, at £1,430.
Commended
Kia Picanto Mk3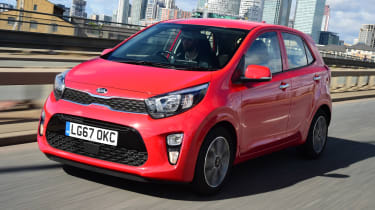 The third-generation Picanto was a strong return to form for Kia in the city car segment. Space and practicality combine with impressive tech in the higher trims to deliver a small car with big appeal. The infotainment is great, but because the Kia is newer than the Skoda, second-hand cars are pricier.
Left-field choice
Fiat Panda 1.2 Dynamic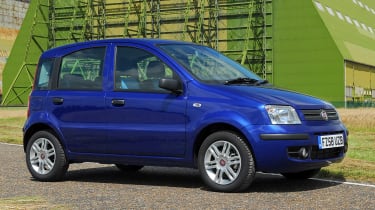 Fiat is famed for making excellent small cars, and the Panda is a great used buy, thanks to the versatility it offers. We found a 2007 Panda priced from just £500. With around 75,000 miles showing, it should be fine to drive, while a simple, uncomplicated nature helps keep costs down.