Audi RS3 Sportback - best performance cars
Here's our round up of the top 10 best performance cars on sale now.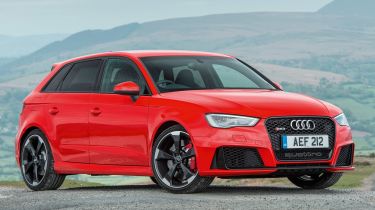 Audi says the Audi RS 3 Sportback boasts the most powerful engine of any hot hatch, but in reality its combination of 362bhp and Quattro four-wheel-drive thrust the model into the realms of true high performance machinery.
It might be the smallest of Audi's RS models, but it packs a mighty punch with 465Nm of torque from 1,650rpm to 5,500rpm. The upshot is a 0-62mph time of 4.3 seconds, aided and abetted by the VW-group's rapid-fire seven-speed DSG gearbox and the limpet-like traction of the 4x4 system.
There's an optional adaptive damping system if you want to be able to soften the ride a little, but the standard sports suspension suits the hardcore nature of the power delivery and delivers massive grip. The steering is direct and the body well controlled, although the RS 3 defaults to understeer as you reach the limit so experienced rear-wheel-drive enthusiasts may find an M2 more entertaining.
For ordinary mortals though, the RS 3 will feel almost unbeatable across country – and if you've opted for the sports exhaust, progress will be accompanied by a visceral soundtrack, which pops and bangs on the overrun with the ferocity of a (domesticated) Group B quattro.
Best of all, when you're not in the mood, the remarkable RS 3 reverts to a practical A3 five-door hatchback… although never an ordinary one, as you're cossetted in its superb leather-trimmed wingback sports seats, with the grippy alcantara trimmed sports steering wheel in your hands.
Top 10 best performance cars on sale now