Bentley Continental GT - best luxury cars
The definition of a 'grand tourer', the Continental GT is the very best that Bentley has to offer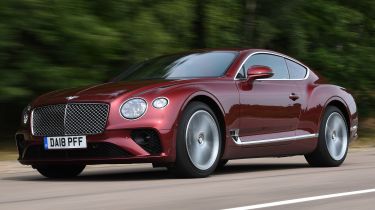 The Bentley Continental GT may be built on Porsche Panameraunderpinnings but that is in no way a bad thing as both cars feature in this top ten list. This is a luxury 'grand touring' coupe that does not break sweat being driven across continents. Its 626bhp and 900Nm W12 engine has become synonymous with the car and certainly packs a punch.
The interior is a treat for anyone lucky enough to sit inside, with inspiration taken from the wings of the Bentley badge. The dashboard, for example, 'wings' majestically out from the central console, before continuing into the door trims, circling the occupants with a ring of wood and leather.
Along with the lavish design the cabin features an array of new technology including bang-up-to-date infotainment and safety systems that are a match for anything else on sale. There's also a bundle of new chassis tech that helps give the Continental GT its great driver feeling on the road. 
Top 10 best luxury cars