Scirocco vs Scirocco
Volkswagen Scirocco 1.4 TSI vs Volkswagen Scirocco 1.5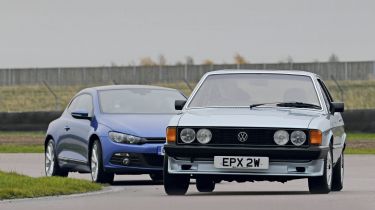 Taking a family car's platform and mechanicals and turning them into a sleek, sexy coupé sounds like a new idea. But it's not. Volkswagen has been doing it for more than 50 years – it pioneered the concept with the 1955 Beetle-derived Karmann Ghia, which was replaced by the Golf-based Scirocco of 1974.
Now, there's another Scirocco on the block. Question is, can it capture the magic that made the original so desirable?
Comparing the two in the metal shows that the Scirocco has grown up in more ways than one: the old car looks tiny. Delicately proportioned with a shallow bonnet and ruler-straight lines, it looks barely big enough for a driver, let alone four passengers. But with its elegant frame comes a sense of design purity.
In terms of mechanical layout, the original Scirocco is pretty traditional, with a transverse engine driving the front wheels. While this set-up barely raises an eyebrow these days, in 1974, it came as a culture shock to VW fans.
Until this point, the firm's product range consisted of little more than the air-cooled Beetle and a handful of other antiquated rear-engined machines. The Scirocco, and the Golf on which it was based, fast-forwarded VW's engineering philosophy by 20 years in one fell swoop.
Hit the road and it's almost impossible to believe that the Scirocco was the first of the conventional front-wheel-drive VWs. Everything, from the steering to the handling balance, feels great. And while aspects such as the inadequate brakes take some getting used to, it doesn't seem like a machine born nearly 35 years ago.
So is the new car a worthy successor? As far as spirit and looks are concerned, the answer has to be yes. It's a dramatic package that brings together all the qualities of the Golf into a sleeker, sexier shape. However, in terms of engineering impact, the original will never be beaten.
Facts and figures
Volkswagen Scirocco 1.4 TSI vs Volkswagen Scirocco 1.5
Price new: £18,395 / (1975): £1,995Engine: 1,390cc 6cyl / 1,471cc 6cylTransmission: Six-speed manual, front-wheel drive / Four-speed manual, front-wheel drivePower: 160bhp / 85bhpLength/width/height: 4,256/1,810/1,404mm / 3,850/1,630/1,290mm