Alpine A110 - best performance cars
The lightweight Alpine A110 delivers a pure driving experience to go along with its quirky retro looks.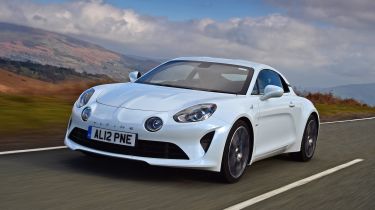 The Alpine A110 is a lightweight, driver-focused car which captures much of the original model from the 1960s. However, the rear-wheel-drive, two-door coupe is no ordinary performance machine - available with either 248bhp or 288bhp, you could be forgiven for thinking it's a bit underpowered. But, the key secret to its success is in its distinct lack of mass, as all versions weigh under 1,200kg.
The A110 is much lighter than rivals like the Porsche 718 Cayman and Audi TT RS. So, it can cope with a drop in power over its competitors as it has less metal to shift around. At first glance, the Alpine's 1.8-litre turbo petrol engine looks no match for the Audi's 2.5-litre five-cylinder unit, but it more than matches up on the road. It also sounds pretty good and loves to be revved.
The A110's price tag of almost £50,000 might seem a little steep when compared to the polished finish of certain rivals, but it oozes style and offers a supremely engaging drive.
Alpine claims the A110 with 248bhp should sprint from 0-62mph in 4.5 seconds, while the S version with 288bhp is a tenth quicker at 4.4 seconds. Rivals offer more power, but make no mistake, this is still a mightily quick sports car.
Top 10 best performance cars 2021