A modern car history lesson: 35 years of change
Straight from the Auto Express archive, we round-up the highlights (and a few lows) from every year since our birth in 1988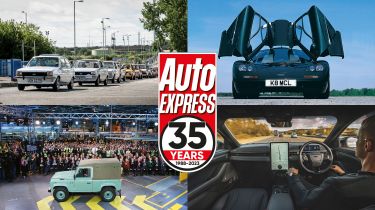 Auto Express magazine first hit the shelves way back in 1988 and the car world has changed hugely since then. However, we've been there every step of the way to make sense of it all for you, covering the biggest news stories, driving the latest cars and covering every motor show. Here we look back at some of the major events and stories of the past 35 years.
1988 – Auto Express accelerated on to the news stands in September with a first issue that shook up the motoring-media landscape. Its mix of news, road tests, exclusive spy shots and consumer advice proved an immediate hit with readers, and successfully set the template for what was to come.
1989 – We've been a major supporter of the UK car industry from the outset, so the sale of one of the country's most high-profile manufacturers was big news. Ford's purchase of Jaguar for $2.5billion promised a bright new era for the brand, although rivals argued it was overpriced. Jaguar went on to become a pillar of Ford's Premier Automotive Group, with Aston Martin, Lincoln and Volvo.
1990 – Little did we know it then, but a contract signed by the Czechoslovakian Government in December was to have big implications for the car industry in general and the UK market in particular. It gave the green light for the Volkswagen Group to buy Skoda in 1991, paving the way for the transformation of the marque into a brand beloved of buyers who prioritise practical motoring at sensible prices.
1991 – The arrival of Kia in the UK, with its underwhelming Pride supermini, was recorded with a sense of duty rather than much enthusiasm. But the emergence of the Korean company – alongside sister brand Hyundai – as an award-winning global powerhouse over the past three decades has been one of the most extraordinary stories we've covered.
1992 – A turning point for car buying arrived in '92, with the seemingly unremarkable launch of Ford Options. It heralded the introduction of the personal contract purchase, which allowed customers to drive a new car every two or three years. The idea was widely adopted, and now it's estimated around 80 per cent of private new-car sales in the UK are financed this way.
1993 – The single most dramatic car of our three-and-a-half decades? There are a few contenders, but one that would surely be on everyone's shortlist is the McLaren F1, which entered production in this year. Even today Gordon Murray's 618bhp naturally  aspirated masterpiece, with its iconic central driver's seat, is revered as one of the greatest supercars ever.
1994 – Another of Britain's most famous car makers changed hands, with BMW agreeing to buy the Rover Group for the equivalent of $1.35billion. It seemed a good move at the time, but Rover's poor productivity, falling sales and iffy quality sapped BMW's resources and led to it being dubbed 'The English Patient' in Germany. By 2000, BMW was happy to offload Rover to a consortium of UK businessmen known as the Phoenix Four for the symbolic sum of a tenner.
Partnership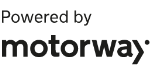 Need to sell your car?
Find your best offer from over 5,000+ dealers. It's that easy.
1995 – Motorsport has always been a focus for Auto Express, and while Formula One has traditionally dominated coverage, rallying obviously has more relevance to the cars readers can buy in showrooms. In '95, Colin McRae thrillingly became the first British World Rally Champion, driving a Subaru Impreza, followed by Richard Burns, also in a Subaru, in 2001. Tragically both of these WRC legends had been taken from us by 2007.
1996 – Significant advances in car safety have been among the most positive developments we've reported on, helped in no small way by the formation of Euro NCAP in December of this year. Its crash test programme and awarding of star ratings for cars have had a huge effect in raising standards across the industry, to the benefit of buyers everywhere.
1997 – We were in full Rule Britannia mode in October as a souvenir edition marked the breaking of the World Land Speed Record by the UK-designed and built Thrust SSC. Andy Green drove the supersonic car to a mind-boggling 763mph at Black Rock Desert in Nevada – a record that still stands 26 years later.
1998 – The Ford Focus, one of the defining cars of our lifetime, made its debut in August of this year. From its launch as an uncannily sharp-handling compact family hatch to news of its discontinuation in 2025, we have followed its progress religiously, including a world-exclusive reveal of the second generation, the amazing RS versions and a decade of UK sales domination (1999 to 2008).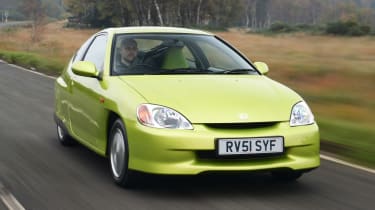 1999 – This was the year that hybrid coverage started to appear regularly in Auto Express, with the Honda Insight following the Toyota Prius into production. While their blending of electric and petrol power, oddball looks and aerodynamic efficiency was clearly clever, who could have predicted the impact that the Prius, in particular, would go on to have?
2000 – For much of Auto Express's life, our Watchdog pages were a way for readers to voice dissatisfaction at their cars and the motor industry at large. At the turn of the century, fuel prices and fuel duty were a constant complaint – and things came to a head in September when truckers and farmers protested by blocking refineries, causing fuel stations to run dry and bringing Britain to a grinding halt.
2001 – Mini had arrived at BMW as part of its deal for the Rover Group (see 1994), and had been retained when the group was sold on in 2000. But there was scepticism about what 'the Germans' might do to this iconic British brand. We had our answer in June, when the all-new MINI hatch was launched. Sensational to look at and superb to drive, it was arguably the greatest rebirth of our 35 years.
2002 – Being a leader in the field for so long has taught us that time provides useful context. A perfect example is the Porsche Cayenne, launched in this year to widespread bemusement, particularly on account of its ungainly looks. It went on to become a true game changer, with its sales success allowing Porsche to continue creating its world-beating sports cars, and showing the industry that, for better or worse, performance SUVs had gigantic potential.
2003 – We've learned that few things get readers more exercised than the idea that motorists are being unfairly targeted, so the general mood was one of anger and frustration when the London Congestion Charge was introduced in February, followed by the opening of the M6 Toll in December. Whether either has achieved what they set out to remains up for debate, but they're both still in operation.
2004 – Auto Express had always been a keen backer of the British Motor Show, but by 2004 it was clear the event was in decline, prompting the Society of Motor Manufacturers and Traders to promote a world-first "Live" element to revive interest. Unfortunately, it didn't really work, and this year marked the last event at Birmingham's NEC, before it relocated to London's ExCeL in 2006 and 2008, with minimal success. These were to be the last shows with SMMT involvement.
2005 – After years of heavy losses under Phoenix Four stewardship, there was a sense of inevitability when MG Rover, the UK's last remaining volume car maker, went into administration. The despair was tangible. But this dismal end was to actually prove the start of a new era, with key assets bought by China's Nanjing, who went on to merge with SAIC – the current owner who has revitalised MG's fortunes.
2006 – The word 'crossover' wasn't in the motoring lexicon when Auto Express launched – and its prominence can be traced back to this year, which saw the debut of the Nissan Qashqai. The premise was simple – the Qashqai blended the best bits of a family hatchback with the elements of an SUV that most appealed to customers – but some were unconvinced it delivered on either front. Buyers lapped it up, though, and 160,000 were made at the Sunderland plant in its first year of production alone. 
2007 – We've always been keen to try the latest technology, so there was a fair degree of anticipation when we were among the first in the world to test drive Honda's hydrogen-powered FCX Clarity. Hailing the car as a "stunning debut", we said the Japanese company was leading the world into a fuel-cell future, but asked: "Is the rest of the planet listening?" Fast-forward 16 years, and that question is more pertinent than ever.
2008 – Another new owner for Jaguar, because it was sold by Ford, along with Land Rover, to Indian giant Tata Motors for $2.3billion. Some cynics were wary of what Tata had planned for JLR, with certain quarters describing it as a form of reverse colonialism. But any doubts had been banished by 2013, when turnover had trebled and JLR had recorded billion-pound annual profits for three years in a row.
2009 – Auto Express was among a number of leading media outlets that successfully lobbied the UK Government to launch an incentivised Scrappage Scheme that enabled thousands of drivers to be able to buy new cars more cheaply. Owners of vehicles at least 10 years old were eligible for grants of £2,000 to put towards a new vehicle if they scrapped their old motor. Eventually more than 392,000 cars were registered through the scheme.
2010 – We've seen a fair few shocks at motor shows, but nothing compares with the Paris event in October of this year, when Norfolk's Lotus unveiled an incredible five new concept cars – the Esprit, Elan, Elite, Elise and Eterne – to general astonishment. It seemed too good to be true, and so it proved, because the firm's plans fell into disarray. Thankfully Lotus is now thriving again under Chinese ownership.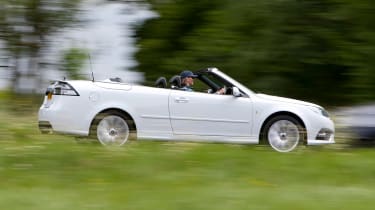 2011 – There have been a number of industry casualties over the past 35 years, but the fall of Saab ranks among the saddest. We charted the Swedish maker's long, agonising demise after years of underinvestment from General Motors, which culminated in bankruptcy in December of this year. Twelve years on, the maker of classic models such as the 900 Turbo remains much missed by fans.
2012 – The UK's extensive influence on the global car industry was acknowledged by the establishment of the Auto Express Hall of Fame, with entry reserved for the winner of our annual Brit List. Dr Andy Palmer, then COO of Nissan, was our first inductee and he has subsequently been joined by big hitters such as current Peugeot CEO Linda Jackson, ex-Jeep boss Mike Manley, General Motors' Duncan Aldred and, most recently, GM's Rory Harvey.
2013 – Our ability to regularly set the news agenda was underscored in an interview with then Transport Minister Stephen Hammond, who suggested, contrary to Government policy, that 80mph speed limits were being considered for the UK. Some of Britain's biggest news outlets picked up the story and went to town on it – causing Hammond to be publicly slapped down by his boss, Transport Secretary Patrick McLoughlin.
2014 – Of all the new brands that have arrived in the UK during the past 35 years, none has had such a dramatic impact as Tesla. June of this year saw the firm formally launch right-hand-drive versions of the Model S and its Supercharger network in Britain, as boss Elon Musk announced a rapid expansion plan. Wonder what happened to him?
2015 – The year of Dieselgate, when the shocking revelation that the VW Group had fitted defeat devices to diesel-engined cars to manipulate emissions test results caused global outrage. Our role as an industry expert and champion for car owners was recognised when then-editor Graham Hope was invited by the UK Government to address the Transport Select Committee on the scandal early in 2016.
2016 – Its archaic tech had made the end of production unavoidable, but that didn't diminish the sense of loss when the last Land Rover Defender came off the line in Solihull nearly 70 years after the car was first launched. "What started life as an agricultural workhorse has transcended the automotive world to become a worldwide design icon," we reflected.
2017 – After 92 years of General Motors ownership, Vauxhall – along with sister brand Opel – was bought by the PSA Group, owner of Peugeot, Citroen and DS, as the US firm pulled the plug on Europe. Despite fears over what the deal might mean for the Luton-based firm, it has gone on to produce an interesting range of cars, aided by PSA's merger with Fiat Chrysler in 2020 to form the massive Stellantis group.
2018 – Among the most persistent gripes we have received from readers about their cars is the regular failure to achieve the advertised fuel economy. The introduction of the Worldwide Harmonised Light Vehicle Test Procedure (WLTP) was a major step towards addressing this, producing more accurate mpg and emissions figures for new models – although it didn't curtail your complaints completely.
2019 – We've charted some incredible feats in our time, but one of the most extraordinary was the Bugatti Chiron reaching 304.77mph in this year – the first time a production car had ever broken the 300mph barrier. Admittedly it was on a test track in the hands of a former winner of the Le Mans 24 Hours, and the £3.1million price tag of the Chiron Super Sport 300+ it spawned meant it wasn't for mere mortals. But still, what an achievement.
2020 – A year truly like no other, as global lockdowns brought about by the Covid-19 pandemic changed everything, everywhere. Add in Britain's departure from the European Union – which obviously had huge implications for car makers – plus the UK Government's now-rescinded announcement that diesel and petrol new-car sales would cease in 2030, and it felt like the world as we knew it was coming to an end.
2021 – Parts shortages caused by the pandemic saw a lack of new cars and a spike in used-car prices. But the unique circumstances didn't detract from the Vauxhall Corsa's ascent to the top of the annual UK best-sellers list, marking the first time anything other than a Ford had been number one since 1971.
2022 – The Chinese invasion has been long predicted, but electrification is making it a reality. This year saw orders open for the Ora Funky Cat and BYD Atto 3, and these new models will be followed by cars from the likes of Nio, HiPhi, Zeekr and Xpeng. More choice is good news for buyers, but it will be fascinating to see how the established brands respond.
2023 – And so to the present, where Ford has neatly symbolised the ever-shifting sands of the industry that we've recorded since 1988. As production ended for the best-selling Fiesta, the blue oval also became the first maker to offer hands-free driving capability in the UK on the Mustang Mach-E – pointing to a future that would have seemed like a sci-fi movie when Auto Express first went on sale all those years ago.
35 years of Auto Express
It's not just the car world that has changed over last 35 years, as Auto Express itself has also morphed into the magazine and website you read today. During that time, we have introduced new features that have also left their mark on the car world, including Driver Power - our revolutionary customer satisfaction survey - and our annual New Car Awards that recognised the very best in our best in our industry. Read on below as we run down the things that make Auto Express great.
Driver Power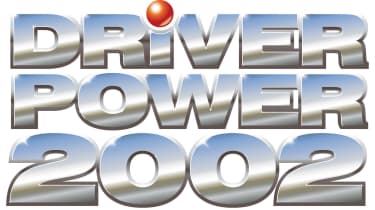 Auto Express had a landmark year in 2002 with the launch of Driver Power, the car owner-satisfaction survey that has gone on to become the biggest and most influential in the UK.
For more than 20 years we have quizzed drivers on what they love and hate about their vehicles, and what's become abundantly clear over more than two decades is that the makers genuinely do scrutinise your opinions to refine and improve their cars.
Hundreds of thousands of responses have been received since 2002, and from these we produce annual countdowns of the models and manufacturers you rate most highly. Incredibly, in that time only five different brands have been rated your number one: Lexus (on 13 occasions), Skoda (five), Porsche (three) and Tesla (once).
The roll of honour for your favourite cars has been more varied, but Skoda, Honda, Kia and Hyundai have all chalked up multiple victories. Currently, you tell us that the latest Citroen C4 is the most satisfying car to own.
Our Cars of the Year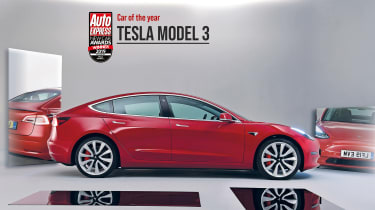 Driving and rating the best new cars has always been at the core of Auto Express, and since 1994 we have handed out annual awards to the very finest models.
Since our very first Car of the Year (the Vauxhall Omega), there have been a further 29 winners, culminating in the Hyundai Kona collecting the 2023 prize in July of this year.
The most successful manufacturers have been Ford, Jaguar and Skoda, with four victories apiece – the Focus (1999 and 2005), Mondeo (2007) and Fiesta (2009); XK (2006), XF (2008), F-Pace (2016) and I-Pace (2018); and Fabia (2000), Yeti (2010), Citigo (2012) and Octavia (2020).
As you would expect, the awards have also reflected the ever-changing nature of the industry, with four of the past five champions – the Tesla Model 3 (2019), Hyundai Ioniq 5 (2021), Nissan Ariya (2022) and Hyundai Kona (2023) – fully electric.
Hyundai is a double victor, and so are Vauxhall, MINI, Volvo and Land Rover, while no French marque has ever picked up our top award – and neither has Mercedes.
Great scoops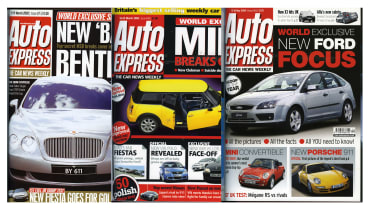 The very first issue of Auto Express set the tone with some amazing spy shots of the Rover 200, and over the years we have delivered a long line of groundbreaking world-exclusive news stories, both in print and online.
Among our standouts were the first ever pictures of the second-generation Ford Focus in 2004, taken completely undisguised at a customer clinic and revealed months before the car was due to be unveiled at the Paris Motor Show. To say Ford was shocked would be an understatement...
That came seven years after we'd pulled off another amazing scoop, becoming the first outlet anywhere to publish undisguised pictures of a startling bug-eyed look for the Toyota Corolla, then the world's top-selling car.
There was astonishment at Bentley in 2002, when we got on our hands on images of the top-secret forthcoming Continental GT courtesy of a disgruntled employee.
And after Issue 849 in 2005, it was MINI that was reeling as we unearthed its plans for a controversial suicide-door arrangement on its Clubman with a digital rendering based on official CAD drawings – a full two years before the car went on sale.
Evolution of Auto Express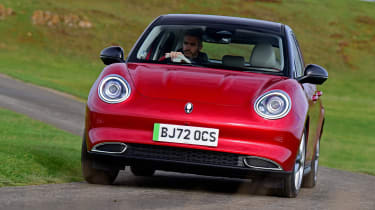 The media world has developed dramatically over 35 years, and that has been reflected in the way that Auto Express operates.
Firstly, how and where we work has changed massively. From modest beginnings, we grew to have a number of busy offices in central London, with cars coming in and out of the capital and being tested on a selection of test tracks in the south-east and beyond. Gradually, though, there has been more remote working, accelerated by the pandemic, and our office space has reduced – although we're still managing to get out and about on a regular basis!
What's important on a car has evolved, too; as our Real-World Road Tests demonstrate, there is now more emphasis than ever on emissions, costs, finance deals, fuel economy, range and all the other elements that directly influence buying decisions. There were fewer factors to consider in the late eighties.
Of course, the major change has been the rise of the Internet. Where once we were print only, we now have a massive online presence, with more than three million users on our website a month, and six million page views. Its 24/7 diet of news and reviews is the perfect complement to the magazine's weekly package of major stories, analysis, drives and consumer advice. And we have hundreds of thousands of followers on our various social-media platforms.
There have been big changes for long-standing staff, too, with picture editor Dawn Grant and creative director Darren Wilson amassing 33 and 30 years of service respectively. Their families have grown up on our long-term test pages.
And then there's the man who's been here from day one, Mike Rutherford.
Click here to subscribe to Auto Express now for just £1...