Ford Fiesta ST - best performance cars
The Ford Fiesta ST cements the brand's reputation as a reliable maker of thrilling hot hatches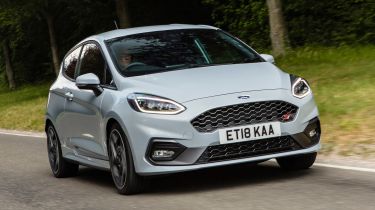 The latest Fiesta ST is a much more comfortable prospect than the outgoing model thanks to a change in approach for the suspension set-up.
The old Fiesta ST was often criticised for being too stiff and hardcore, but the new car features softer dampers which - at the cost of some agility - make it a much more rounded car for everyday life.
A limited slip differential is available on the ST for the first time, while Normal, Sport and Track modes are new additions too. As such the ST is ready for anything, and when you do put your foot down in anger, the steering puts most of its rivals to shame.
A 1.5-litre turbo engine offers 197bhp and 290Nm of torque, accelerating the ST from 0-62mph in 6.5 seconds. Despite the performance, the ST can also reach a claimed 47.1mpg. And with low running costs comes a laughably low price tag, with figures starting at £18,995. You'll struggle to find better performance at this price point.
Top 10 best performance cars 2021